Tue., April 17, 2018
Idaho GOP candidates clash in lieutenant governor debate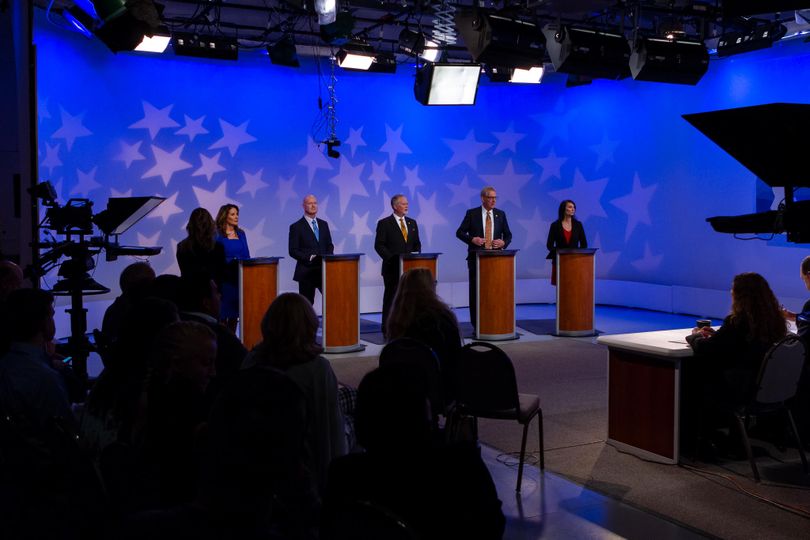 Here's an article from the Associated Press:
By Kimberlee Kruesi
BOISE, Idaho (AP) — Republican hopefuls in Idaho's crowded lieutenant governor race attempted to distinguish what made them uniquely qualified to run for the open position during a Thursday debate that saw some sharp exchanges.
The position has attracted a wide array of candidates now that three-term incumbent Lt. Gov. Brad Little is running for governor against U.S. Rep. Raul Labrador and Boise businessman Tommy Ahlquist.
State Sen. Bob Nonini of Coeur d'Alene was forced to go on the defensive early after being asked about his 1983 arrest, but not conviction, for possession of cocaine with intent to deliver. He has since acknowledged that he later served as an informant in a drug sting.
"Maybe I made mistakes 35 years ago, he who doesn't have a past can throw the first stone," Nonini said. "But I think I've learned during my time in the Legislature ... I think it is all part of my maturity."
Nonini recently raised eyebrows after saying that "all women should pay" if they've had an abortion, during a candidate forum where he agreed that women should face the death penalty if they got an abortion. Nonini on Thursday once again reiterated that abortion is murder, but stopped short of endorsing legislation penalizing mothers who have abortions and said his comments had been taken out context.
"You said you would punish women," said opponent Marv Hagedorn, a state senator from Meridian, pushing back against Nonini's comment. "You said women should be punished. Those were your words."
"I believe abortion should be illegal and it's not right now," Nonini responded.
Hagedorn went on to accuse former Idaho Republican Party Chairman Steve Yates at the end of the hour-long debate of "pretending" to have military service in his campaign literature.
Hagedorn is a retired Navy officer while Yates worked at the National Security Agency and was a former aide to Vice President Dick Cheney as a deputy national security adviser.
The accusation sparked a brief but fiery debate between the two, with Yates adamantly denying he had misled voters he had military service through his campaign materials.
"Sen. Hagedorn owes an apology to the hundreds of thousands of civilian employees at the Department of Defense ... all of whom go toward danger to help keep America safe, they all deserve our respect," Yates said.
"When you go to work to the Department of Defense, usually that is as a military officer, to demean that by pretending that you were in the military, a lot of us veterans take that very seriously," Hagedorn responded.
Hagedorn then incorrectly stated that the NSA was under the Department of Homeland Security. The NSA reports to the Department of Defense, which Yates pointed out.
Out of all five Republicans who qualified for the hour-long televised debate, only Nonini said he had committed to endorsing Little in the gubernatorial race. The remaining candidates declined to reveal who they would prefer in the race, maintaining that they could work any of the candidates running in the upcoming Republican May 15 primary election.
"When I become your next lieutenant governor, I want you to know that my next boss will be you the voter, not the next governor," said Idaho Falls businesswoman and former state Rep. Janice McGeachin.
Idaho's lieutenant governor presides over the state Senate and serves as governor when the elected governor is out of the state. It's a part-time position where the impact largely depends on the relationship between the governor and the lieutenant governor.
All of the candidates agreed that they would want to continue Little's effort in the office and focus on providing more economic development in Idaho.
Yates highlighted that his experience working inside the White House during President George W. Bush's administration would allow him to work with stakeholders outside the Capitol walls and explore opportunities with the federal government.
Meanwhile, Nonini, McGeachin, Sen. Marv Hagedorn and Rep. Kelley Packer all pointed to their legislative experience as evidence they could help bridge any gap between the executive and legislative branches while tackling big issues such as health care access or education funding.
"I do believe I've shown in the Legislature that I'm not afraid to push back when necessary," Packer said.
---
---