Thu., April 19, 2018
Idaho GOP candidates face off in state treasurer debate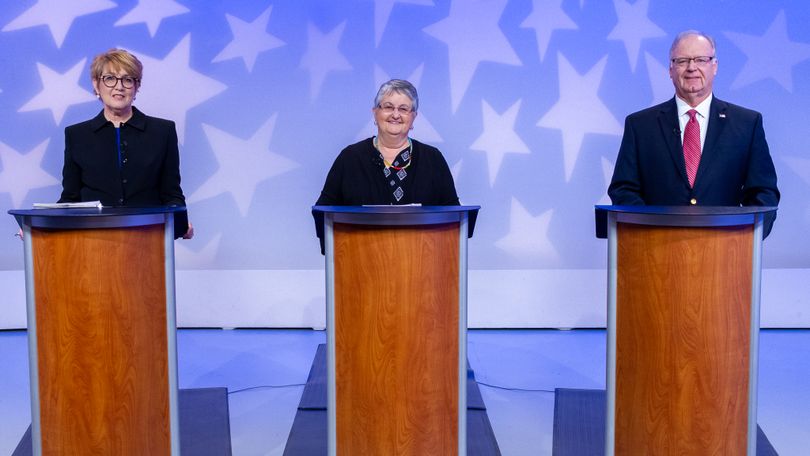 Here's an article from the Associated Press:
By Kimberlee Kruesi
BOISE, Idaho (AP) — Three Republican candidates vying to become Idaho's next state treasurer traded barbs and defended their backgrounds Thursday during their first and only televised debate.
The position is open now that five-term incumbent Treasurer Ron Crane announced he wouldn't seek re-election. The primary will be held May 15.
Julie Ellsworth, a former House majority caucus chair, defended not having a Master of Business Administration degree during the half-hour debate by noting she hadn't lost money in poor investments like those at Morrison-Knudsen Corp. nor had she been accused of skirting the rules.
Ellsworth holds a degree in education from Brigham Young University. Like Crane, she has no financial degrees.
"The state treasurer's office involves interacting with cities, schools, courts, the executive branch," said Ellsworth, who has served a teacher, civil mediator and lobbyist. "It's an office that interacts with a lot of different entities because of all the different services that come out of it. I've had that on the ground experience."
Idaho businessman Tom Kealey, who holds an MBA from Harvard, responded by defending his time at Morrison-Knudsen Corp. — the Boise-based construction company that built the Hoover Dam — during the mid-1990s even though he resigned soon after it won court approval for eliminating $360 million of debt.
Kealey said he was hired after poor investment decisions had been made and he helped identify solutions to save jobs and keep the business afloat.
"As soon as I'm elected, I will take a look at the books at the treasurer's office, but also verify," said Kealey, a corporate executive who co-owns the Chicago Connection pizza chain. "I trust that the books are good, but I will verify."
Ada County Treasurer Vicky McIntyre, who holds an MBA from Boise State University, downplayed recent accusations of misusing a public credit card, countering she had helped grow the county's investment portfolio over the past seven years.
McIntyre was asked by Ada County's three commissioners to turn over her county credit card Tuesday. She has refused, explaining that the issue is part of a long-standing feud she's had with the commissioners. "They've been doing that for years," she said.
"I'm not so sure that I always agree with the policies, I believe that the policies should be affable to the best interests of the people," McIntyre said. She described how she once ignored county policies to buy a work computer in order save money for the county.
"If you don't agree with the policy, have the policy changed before you do your own thing; you are required to follow the law," Ellsworth retorted.
Ellsworth said when she served in the Legislature, she helped improve oversight of the state treasurer's office.
McIntyre said she thought Crane was unfairly criticized for using limousines on an annual trip to New York to meet with bond raters, saying if that was the cheapest way to go, she'd do the same. "I think the people we have on staff at the state treasurer's office are very competent," she said.
Kealey said, "There are billions of dollars and the state's excellent credit rating is at stake. Your decision comes down to qualifications and trust," adding, "Once an Eagle Scout, always an Eagle Scout."
No Democratic candidates are running for the open position, meaning whoever wins the GOP primary will more than likely become the state's next treasurer for the next four years.
The treasurer serves as Idaho's chief fiscal officer and banker, receiving and disbursing all state funds, and investing idle state funds and funds for local governments and state agencies. The treasurer also administers the Millennium Fund, the College Savings Program and the Idaho Prime Loan Program.
Typically, the Idaho treasurer's race flies under the radar compared to the rest of statewide positions. Unlike other low-profile statewide positions such as controller and secretary of state, the treasurer doesn't sit on the State Land Board which manages 2.5 million acres of Idaho land.
---
---