Thu., April 19, 2018
Medicaid expansion initiative in final push, just 5,000 signatures from goal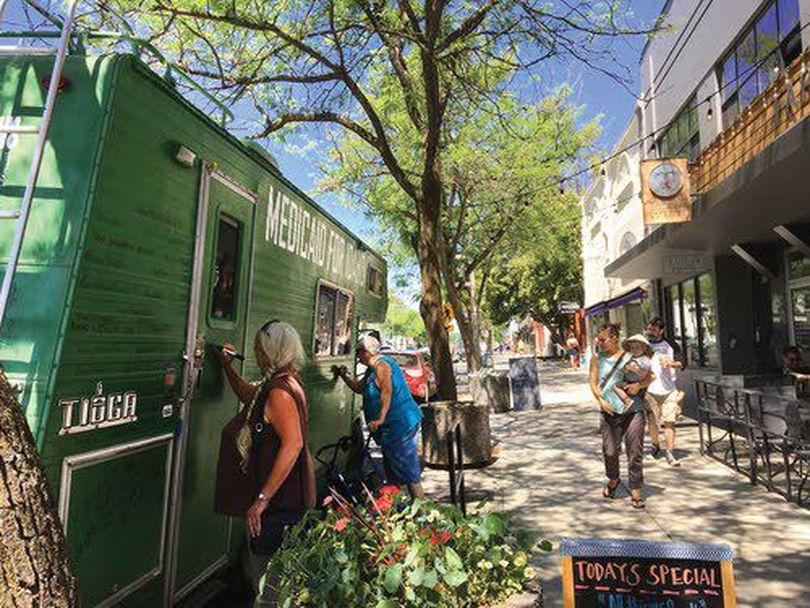 Here's an article from the Lewiston Tribune:
By William L. Spence
An effort to expand Medicaid in Idaho through a citizens initiative is coming down to the wire, with about 5,000 qualified signatures still needed before the May 1 deadline.
Organizers estimate they've collected 51,000 valid signatures so far. To qualify for the November ballot, they need 56,192, or 6 percent of registered voters in the 2016 general election.
Should the initiative meet that goal, voters will have an opportunity to do something the Idaho Legislature so far has refused to do - expand Medicaid eligibility to include adults younger than age 65 who earn less than 133 percent of the federal poverty level. Doing so would provide access to preventative health care services for the estimated 51,000 to 62,000 Idahoans in the Medicaid gap population.
Supporters will hold a "grand finale" canvassing drive in Moscow on Saturday, in order to chip away at the signature deficit. However, the success or failure of the initiative could ultimately depend on Canyon County.
"North Idaho has been a rock star; they've done very well," said Sam Sandmire with Reclaim Idaho, the group that launched the petition drive. "Ada County has done very well. It's all coming down to Canyon County."
Besides the 6 percent signature target, the initiative also needs to meet a geographic distribution requirement: It must be signed by 6 percent of the registered voters in 18 of Idaho's 35 legislative districts.
That last requirement, which the Legislature imposed in 2013, makes it particularly difficult, Sandmire said. No statewide initiative has qualified for the ballot since that condition was added.
However, with the help of hundreds of volunteers, Reclaim Idaho believes it now has enough signatures to qualify in at least 10 legislative districts - including all three in north central Idaho.
Another six or seven are within a few hundred votes of the target and are expected to qualify. To get over the top, the group is targeting two Canyon County districts: the 10th Legislative District in Caldwell and the 12th District in Nampa.
"We need about 545 valid signatures in District 10 and 796 signatures in District 12," Sandmire said.
In reality, the group will have to collect 30 percent to 40 percent more signatures, just to be safe. That's because the signatures only count if the address a voter lists on the initiative petition is the same address that's recorded on the voter registration rolls.
Reclaim Idaho has a team of volunteers verifying signatures, Sandmire said. That's how it came up with the current estimate of 51,000 signatures. However, they won't know for sure whether the initiative qualifies for the ballot until all the petitions are turned in to the Idaho Secretary of State's Office. By law, the office has 60 days after a petition is turned in to validate the signatures.
"Some districts know they've qualified because they've turned their petitions in to the county clerk and been notified," Sandmire said. "But in Ada and Canyon counties, the clerk can't keep up with the number of petitions we're turning in."
Although Ada County accounts for about a third of the legislative districts that are expected to qualify, support for the initiative has come from districts all across the state. That's particularly gratifying for Emily Strizich of Moscow, who co-founded Reclaim Idaho together with her husband, Garrett, and Luke Mayville.
"It's amazing to see how far we've come in just a year," Strizich said. "I don't think we necessarily thought this is where we'd be."
The impetus for Reclaim Idaho was a 2017 school levy election in Sandpoint, she said. Mayville and her husband both grew up there and were dismayed by the apparent local opposition to the levy.
"It didn't seem like anyone was organizing to get the levy passed, so we knocked on about 3,000 doors and mobilized a lot of volunteers," Strizich said. "The levy passed (at a ratio of 3 to 1)."
After that, the trio began thinking about issues that had statewide consensus but lacked legislative support. They narrowed the list down to education, health care access and support for public lands
"They're all qualify-of-life issues," Strizich said.
Then Mayville and her husband came up with the idea of driving an old van around the state to talk with people about their experiences with health care access.
Strizich initially wasn't thrilled with the plan - particularly given the decrepit condition of the van - but that ended during their first stop in Bonners Ferry, where she met a woman who had to decide whether to sell her home to pay for medical treatment.
"That was one of the first doors I knocked on," Strizich said. "It was a life-or-death decision. To get treatment, she was going to become homeless, and if she sold the home, it would force her husband and sister into homelessness. After that, I felt like we had a duty to continue."
The initiative really picked up speed in December, after Mayville posted the petition online with an instructional video on how people could gather signatures. Volunteers got involved all across the state, going to their church groups, their book clubs, sitting in front of the local grocery store and enlisting their friends.
"I think it speaks to the overall power of this campaign," Strizich said. "This is grassroots at its finest."
---
---