Sun., April 29, 2018
6 GOP candidates spar in Idaho congressional debate
Here's an article from the Associated Press:
By Kimberlee Kruesi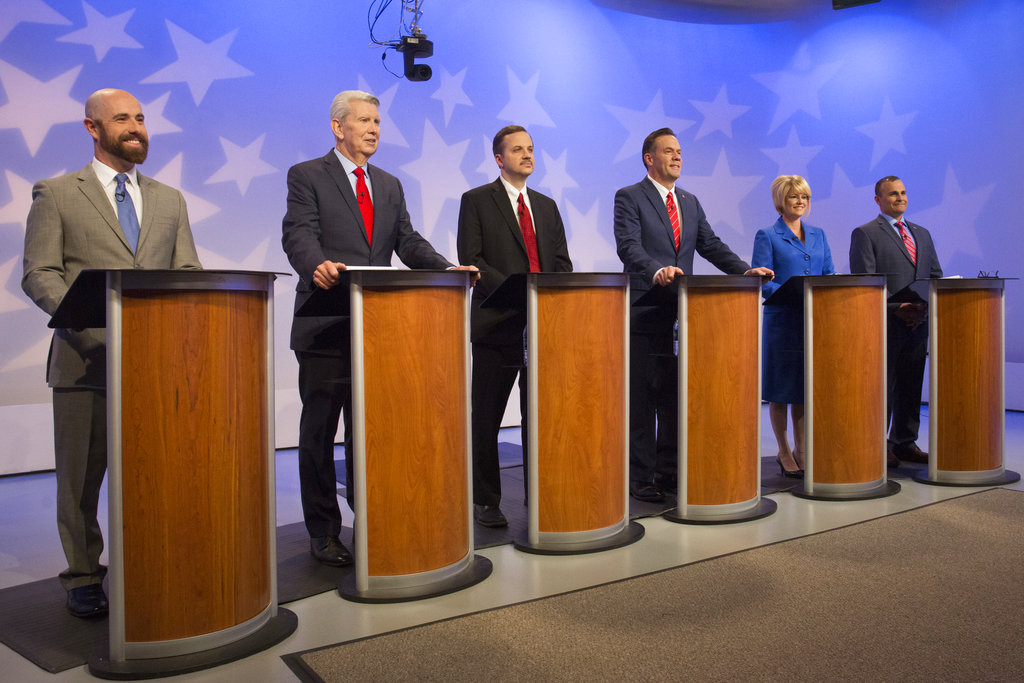 BOISE, Idaho (AP) — Republican candidates vying for Idaho's open 1st Congressional District on Sunday all promised to support President Donald Trump's agenda during their latest televised debate.
Former lieutenant governor and ex-attorney general David Leroy, former state Sen. Russ Fulcher, Rep. Luke Malek, Rep. Christy Perry and first-time candidates Michael Snyder and Alex Gallegos traded jabs while trying to out-Trump one another. They also discussed policy stances on health care, immigration and balanced budget amendments for federal government spending.
All of the candidates defended the federal tax reform bill signed into law last year by Trump, saying that they were hopeful the cuts would lead to more economic growth and not increase the national debt. All of the candidates defended standing by Trump even though the majority of the candidates hadn't overtly supported or voted for the Republican president during the 2016 election.
"I was raised in a household where you respect women and some of things that he's said about women have really gotten under my skin, but again, I agree with him where he's taking this country," Malek, 36, said.
Snyder, 48, of Bonners Ferry, has attempted to cast himself as the most pro-Trump candidate but said Sunday that he was busy traveling in March of 2016 didn't have a chance to vote for Trump in the primary.
Perry, 49, who described herself as "the girl with all the guns" multiple times, said Idaho voters should choose her because she would bring the perspective as a small business owner of a gun shop.
"We know the average congressman is a 58-year old white male, right?" Perry said. "And what have they given us? Twenty-one trillion dollars in debt. A bankrupt Social Security system and no solutions for a health care system."
Leroy, 70, said Congress needs experience more than anything else.
"We all talk about experience, but with all due respect, the experience that Washington needs right now is not another international businessman or even a girl with a gun," Leroy said. "The experience Washington needs right now is a little grey hair, a lot of good judgment and perhaps a touch of statesmanship."
Leroy, Malek and Fulcher briefly sparred over a Senate panel's recent move to safeguard special counsel Robert Mueller from any attempt to fire him. Fulcher said he hadn't paid attention to the issue because he viewed it as a distraction.
The Mueller legislation approved by the Senate panel was largely seen as symbolic, because Majority Leader Mitch McConnell said he won't bring it up for a full Senate vote.
"I'm just a little bit shocked I guess Sen. Fulcher isn't paying attention to what's going on in Congress," Malek said.
"My point once again is that if the branches of government were focused on what they're supposed to be focused on, we wouldn't be running down these rabbit trails," Fulcher said.
Gallegos, 59, said as a retired Army veteran he had the discipline to stand up to Congress.
"We need to change who we elect, we need to elect leaders who have courage and we need leaders with real world experience," he said.
All six said they support better security along the country's southern border and agreed that Congress should reform current immigration policy. They differed, however, on a Constitutional amendment requiring the federal government to follow a balanced budget.
Snyder, Fulcher, Leroy and Perry all supported of the idea, while Malek said he wouldn't actively seek an amendment, but said Congress should pass a responsible budget. Gallegos said addressing the national debt was just as important as national security, but did not take a position on an amendment proposal.
Gallegos and Perry oppose repealing the Affordable Care Act without a replacement plan, while Snyder, Fulcher, Leroy said they favor a repeal of President Barack Obama's signature health care law even with no replacement plan. Malek said he supported the GOP repeal bill that the House Freedom Caucus opposed.
Idaho's 1st Congressional District seat is open because current Rep. Raul Labrador is running for governor.
The district covers the northern half of the state and snakes down to the western part of the Treasure Valley, including parts of Boise.
The GOP primary election is on May 15.
---
---