Mon., April 30, 2018
3 GOP governor candidates participate in final debate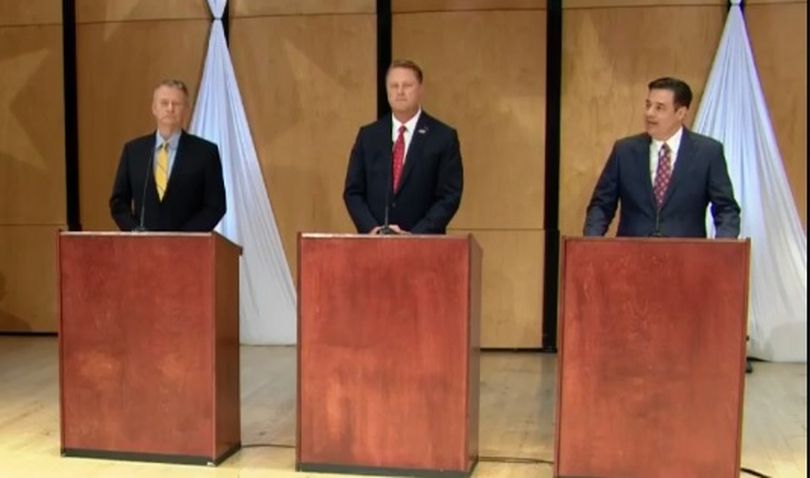 Here's a story from the Associated Press:
By Kimberlee Kruesi
BOISE, Idaho (AP) — Idaho Republican gubernatorial candidates Raul Labrador, Brad Little and Tommy Ahlquist continued to exchange jabs Monday in an otherwise familiar primary debate that covered education, health care and prison reform.
Little — a three-term lieutenant governor — maintained Gov. C.L. "Butch" Otter had successfully led Idaho out of the Great Recession, but he was the best candidate to take Idaho's continued success to the next level.
"Tomorrow is not yesterday," he said. "The question is how we create the best opportunity moving forward. There's a reason everyone is moving to Idaho."
Ahlquist criticized his opponents for maintaining the status quo in Idaho politics. Ahlquist, a former emergency room doctor turned Boise developer, is running for elected office for the first time and has cast himself wanting to become Idaho's next CEO rather than another politician.
"I give a nod to a life of service that we saw with Otter but this election is about the future of Idaho," Ahlquist said. "I just don't believe the status quo is good enough for Idaho."
Labrador bristled under Ahlquist's reproach, countering that he had stood up not only to special interest groups during his political tenure but also his own party while in Congress.
"The cronyism that is happening in Boise is going to end, that's why the special interest groups are running scared," Labrador said.
Labrador went on to accuse Ahlquist of telling "half-truths" in his negative campaign advertising, particularly against the Republican congressman's record.
Ahlquist and Labrador have continually butted heads along the campaign trail, with Ahlqust defending his flood of television ads and mailers as informing voters of his opponent's past.
Little and Ahlquist briefly sparred over the best way to allow cannabidiol, otherwise known as CBD oil, in Idaho. Ahlquist supports legalization, while Little says the product must be carefully regulated and will likely be available "in June" because the FDA will approve it as a drug.
"You're saying CBD is going to lead to legalizing marijuana; that is a pharmaceutical answer, that's an answer from a politician," Ahlquist said.
"There's no quality, there's no quality," Little responded, raising concerns about the risk of allowing unregulated CBD products that may contain THC.
"Don't sit back and do nothing," Ahlquist countered.
Labrador also said he supports legalizing CBD.
He was also the only candidate to say he was against a ballot initiative that seeks to legalize lucrative betting machines known as instant horse racing terminals.
The terminals were briefly legal in Idaho, but lawmakers outlawed them after claiming they were too similar to slot machines.
It's still unclear if the proposal will make it on the November ballot, but supporters say they have submitted enough signatures and are just waiting for county clerks to certify them.
"I'm against gambling," said Labrador, who is Mormon. "It looks like there may have been misleading information out there while selling this idea."
Overall, all three touted the idea of cutting taxes in Idaho to remain competitive and attractive to businesses, but all of the candidates also agreed more attention should be paid to education, health care and prisons.
Only Little admitted that the state might have to find new revenue sources or delay tax cuts in order to improve the state's aging roads and bridges, as well as to prevent possible education cuts.
Ahlquist boasted that he could find and eliminate government waste.
Labrador said he would demand all agencies to find at least 5 percent budget cuts immediately if elected governor.
The race over the gubernatorial position has become one of the most competitive in Idaho since Otter announced he wouldn't run for a fourth term.
---
---