Mon., April 30, 2018
Medicaid expansion initiative backers say they've met their goal, measure should qualify for Nov. ballot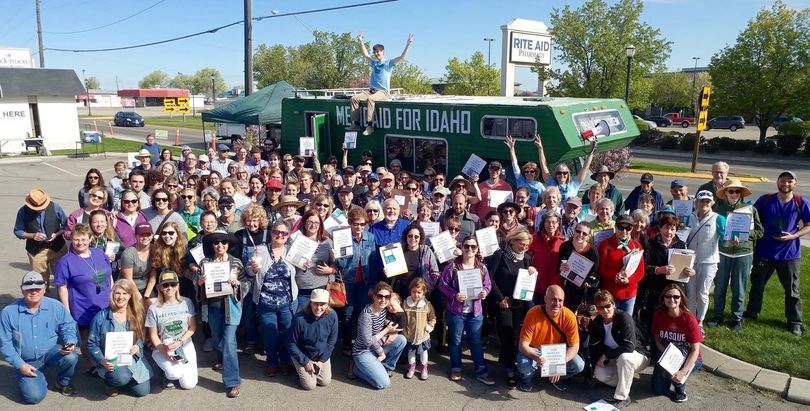 Backers of the Medicaid expansion initiative announced today that they have more than enough signatures to get the measure on the November ballot in Idaho.
"We are overjoyed by the outcome of this petition drive," said Luke Mayville of Sandpoint, co-founder of "Reclaim Idaho," the volunteer group behind the measure. "Month after month, it just kept gaining momentum to the point where now we're not just meeting the goal, we're clearing it by thousands of signatures. And that's an achievement not just for our organization, or for our volunteers, but for those who have been struggling to do something about this health care crisis for the last five years."
The group must turn in at least 56,192 valid signatures from registered voters by tomorrow at 5 p.m.; it will continue collecting signatures until the signature-gathering deadline of midnight tonight. In addition to meeting the total figure, the group must turn in signatures from at least 6 percent of the registered voters in at least 18 of Idaho's 35 legislative districts. Mayville said that goal's been met, too.
The final word won't come until June 30, which is the deadline for county clerks around the state to verify the signatures. But Mayville said 40,000 already have been verified by county clerks, and volunteers have been extensively trained to make sure voters only signed the petitions with their current addresses as reflected in state voter records.
The last major initiative proposed for the Idaho ballot, on campaign finance reform in 2015, collected far more signatures than needed, but nearly half were invalidated for not matching current addresses – leaving the total about 5,000 signatures short.
No initiative has qualified for the Idaho ballot since state lawmakers in 2013 imposed the requirement to get 6 percent of registered voters' signatures from each of at least 18 of the state's 35 legislative districts. Gov. Butch Otter signed that bill into law just five months after Idaho voters overwhelmingly supported three referendum measures to overturn the "Students Come First" school reform laws championed by Otter and then-state schools Superintendent Tom Luna; the 18-legislative-districts rule applies to both initiatives and referenda. The historic referenda votes in 2012 marked the first time Idaho voters had overturned laws passed by the Legislature since the 1930s.
Expanding Medicaid in Idaho under the Affordable Care Act, or Obamacare, as 32 other states have done, would cover the up to 62,000 Idahoans who now fall into a coverage gap – they make too much to qualify for Idaho's limited Medicaid program, but not enough to qualify to purchase subsidized health insurance through the state's insurance exchange. If Idaho expanded Medicaid, the federal government would cover 90 percent of the cost, using tax money that Idahoans already are paying.
However, state lawmakers have been resistant to the idea for the past six years, saying they wanted no further involvement with Obamacare after the creation of the state insurance exchange.
Emily Strizich, a co-founder of Reclaim Idaho, said, "This initiative would bring health care coverage to those who need it the most, and it will allow Idahoans to decide what we want in our health care system, no matter what politicians in Boise or Washington, D.C. do. These are moms and dads who work hard in jobs that don't provide health coverage, and people who are nearing retirement who have lost their jobs. Many have been forced to put off needed care and haven't been able to see a doctor in years."
The three leading GOP candidates for governor all oppose Medicaid expansion, but Lt. Gov. Brad Little says if the measure passed, he'd follow the will of the voters. Tommy Ahlquist said today that if it passed, he, too, would follow the voters' will, but that he'd also still work to reform Medicaid, and he'd work to persuade voters between now and November not to pass the ballot measure. Raul Labrador said last week that he'd consider working to overturn the voter-passed initiative, which the Legislature and governor can do; lawmakers did so in 2002 on term limits, overriding a veto from then-Gov. Dirk Kempthorne. "I thought they made a mistake with the term limits initiative, but this one we will have to look at the language," Labrador said Thursday. "I would look at all the options."
The two leading Democratic candidates for governor, A.J. Balukoff and Paulette Jordan, both support the initiative, and said during a statewide debate last week that they've signed it and also helped gather signatures for it.
---
---