Mon., Feb. 5, 2018
ITD budget for next year includes replacing an aging state airplane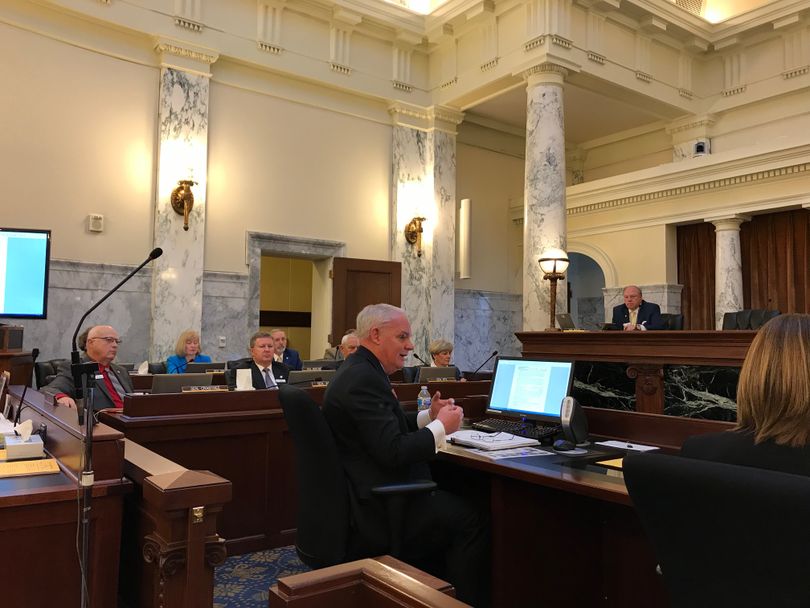 The budget request for the Idaho Transportation Department for next year includes a request to replace one of the airplanes in the state's three-plane fleet, a 45-year-old Cessna 182, "replacing an aging 45-year-old single prop airplane with a modern aircraft that will be safer for our customers," ITD Director Brian Ness told the Joint Finance-Appropriations Committee this morning. "Turboprop planes have a much better safety rating" and are better suited for use in emergencies such as search and rescue, he said. You can read my full story here at spokesman.com.
ITD's current fleet includes a King Air, a Cessna 206 and a Cessna 182. The King Air, which can carry 10 passengers, can be flown in all types of weather, and can reach most places in Idaho within an hour, is used the most. The Cessna 206 was purchased in 1978, can carry five passengers and is capable of carrying oversized cargo. The Cessna 182, which was purchased in 1972, can carry three passengers.
More than 40 state agencies use the state planes, ITD reports, including for emergency transportation for the Idaho State Police and the state Department of Correction; for search and rescue; for emergency transport of hazardous materials; and for non-emergency transportation of state employees.
Ness requested that the $2 million for the purchase of the plane come from the Aeronautics Fund, which comes from aviation fuel taxes, aircraft licensing fees, fines and penalties. Gov. Butch Otter recommended a $1.475 million transfer from the state general fund to the Aeronautics Fund next year, with the fund then making transfers back to the general fund annually until the transfer is fully repaid. Because of that "gymnastics," Ness said, the budget request appears to show a total of $3.475 million, but only $2 million is being requested to buy the new plane.
JFAC members had few questions about the plane replacement during this morning's budget hearing, though Rep. Phylis King, D-Boise, asked a legislative budget analyst to explain the transfer mechanism.
There were questions, however, about a proposal to replace ITD's District 4 building in Shoshone with a new structure that possibly would be built elsewhere; dozens of employees work there. Rep. Steve Miller, R-Fairfield, said, "I struggle with the economic impact of moving that number of employees out of the area. … I have great difficulty supporting this particular line item until we know the conclusions that were drawn and have the opportunity to review the economic impact as well as the advantages that might be gained in moving this location."
Ness said the ITD board is awaiting results of a study before making that decision.
There also were questions about the recent software problems and related closures of DMV offices around the state. Rep. Wendy Horman, R-Idaho Falls, said she's heard concerns from county officials. "Can you give me an update on those, and your confidence moving forward on how we're hopefully turning the corner on those problems?" she asked.
Ness said, "Yes, we realize that there are some difficulties. We are trying to convert over to a new system, and in some cases we have vendors that may have started and not continued through, we have to find new vendors." There also have been security issues, he said. "We're trying to make our system as secure as we possibly can. … You kind of have to balance that. The more security that you put in, the slower the system's going to run, so where's that balance. We're still working through that. … I'm confident we will work through it. … It bothers us as staff, but it would bother us probably even more if that information were compromised in any way. We'll do the best we can to keep that balanced and keep moving forward with that modernization effort."
Otter's budget recommendation for ITD for next year comes to a total of $706.3 million, none of that from the state general fund; ITD is funded with dedicated funds that largely come from fuel taxes and vehicle registration fees, and with federal highway allocations. For next year, under Otter's recommendation, $317.9 million of ITD's budget would come from federal funds, and $388.4 million from state dedicated funds.
JFAC members also asked Ness about the prospects for new federal infrastructure funds. He said it's unclear at this point what Idaho could receive. "We're working with our congressional delegation, we're working with the White House, we're trying to advance the conversation as much as possible that rural states have their problems too."
Rep. Neil Anderson, R-Blackfoot, asked about rising fatality rates on Idaho's roads. "Our fatality rates in general continue to go up as traffic increases," Ness said, and even when "normalized" for the additional vehicle-miles traveled, "Fatalities are going up." He said more congestion on the roads from increased traffic is a factor, as is more distracted driving. ITD's budget request for next year includes a $500,000 line item for "behavioral safety funding," which would expand safety programs that have been aimed at young drivers to drivers of all ages.
---
---