Wed., Feb. 7, 2018
House passes tax-cut bill on straight party-line vote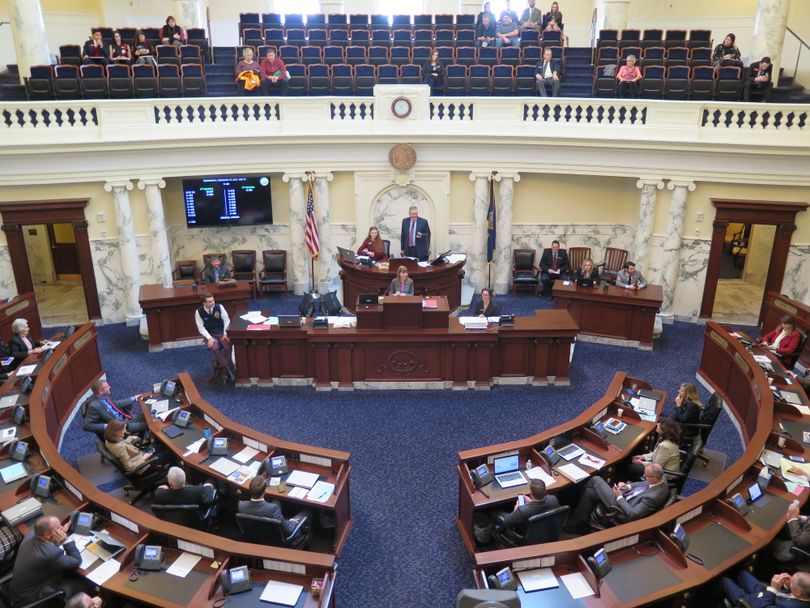 After more than an hour's debate and two unsuccessful motions, the House has voted 59-11 – a straight party-line vote, with all Republicans voting yes and all Democrats voting no – to pass HB 463, the governor's income tax-cut bill. You can read my full story here at spokesman.com. House Majority Leader Mike Moyle, R-Star, in his closing debate, said Idaho's individual and corporate income tax rates, which currently top out at 7.4 percent, are higher than those in most surrounding states. "Guys, if you have a business, why would you come to Idaho?" he asked the House. "If you have a family, why would you come here and pay Idaho's exorbitant income tax?"
Moyle said, "This is arguably the largest tax cut in Idaho history – it's a little over $200 million."
House Minority Leader Mat Erpelding, D-Boise, said, "I think it's reckless policy. It's a whole host of bills wrapped into one, and this bill brings us one step closer to Kansas. In fact, the fiscal policy is probably like the wicked witch of the west. … In many cases, families with children will see an increase in their taxes, while tuitions continue to go up. This is not how to make a state more ready … to address workforce needs in our future."
He said, "I'm deeply disappointed that all this is wrapped up into one bill. It's a $200 million-dollar train wreck, and I hope we don't turn into Kansas."
To become law, the bill still would need to clear a Senate committee and pass the Senate, and receive the governor's signature.
All 11 House Democrats debated against the bill, with each highlighting a different area of the state budget, from education to infrastructure to health care, where they said pressing needs will go unmet as Idaho trims back its state tax revenues due to the cut. "I oppose this fiscal policy – I think it's ruinous," said Rep. Sue Chew, D-Boise. "Instead I support investing in Idaho's future with health care of our Idahoans front and forward in our focus."
Rep. Ryan Kerby, R-New Plymouth, said he would "barely" support the bill, because he'd prefer removing the state's sales tax from groceries. Cautioned to limit his debate to the bill, Kerby told the House, "I guess I would say the child tax credit should be taken out and something else should be put in its place."
Rep. Brent Crane, R-Nampa, asked Moyle why he didn't include a grocery tax repeal in the bill instead of a $130 per child tax credit.
Moyle offered "maybe a little history lesson," saying, "In 2015, the speaker and myself brought a bill forward – it took the sales tax off groceries, and it lowered the income tax rates. … That bill passed through this body," but it never came to a vote in the full Senate. "Now, I understand that there are a lot of people, myself included, that would like to see the sales tax come off of groceries," Moyle said. "But that's not what this bill does." Moyle said that bill could be considered later. He noted that the impact of federal tax changes on Idaho's income tax system would mean a big tax increase for Idahoans, particularly those with large families, because of the loss of the personal exemption for dependents. "The child tax credit is there because that also is a hit to the income tax side," he said.
Rep. John Gannon, D-Boise, said, "This bill is contrary to 50 years of tax history, because it eliminates a longstanding child dependent credit, it fails to adequately replace that deduction, and the result is a tax increase on Idaho families with children. In a bill that is supposed to reduce taxes, this bill actually increases taxes on families with children."
---
---