Wed., Feb. 14, 2018
Testimony: 'Bad for our business,' 'A serious issue,' 'As dangerous as any enemy'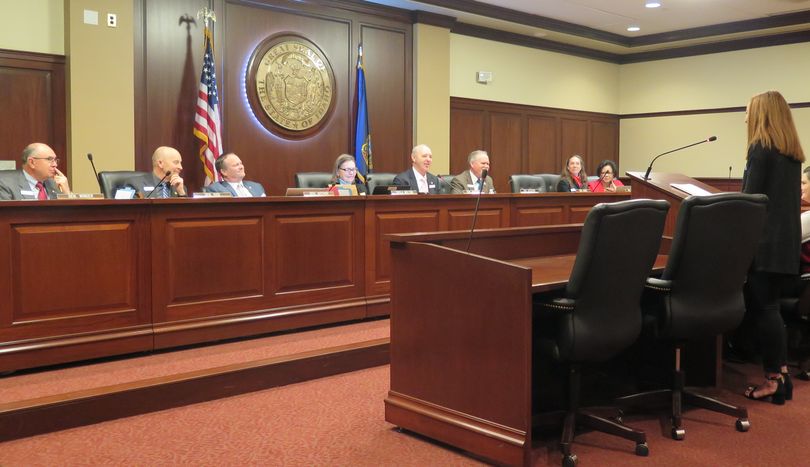 Among the testimony at this morning's hearing on SB 1255, the bill to raise Idaho's smoking age to 21:
Fred Birnbaum of the Idaho Freedom Foundation, who spoke against the bill, drew gasps from the audience when he told the Senate State Affairs Committee he doesn't think raising the smoking age would save money on health care costs "because people who smoke do die earlier." He said, "The world we live in should have enough space to accommodate the habits of others as long as they don't do us injury. … I don't believe that the increment we would see going from 18 to 21 is going to be very significant."
Elizabeth Hall, a decorated combat veteran of the Gulf War who said she's from a family with military service dating back to the Revolutionary War, said she supports the bill "as a former member of the military who's witnessed the effect of tobacco on military members both personally and professionally." She said, "One thing I know for sure is that tobacco can be as dangerous as any enemy out there. Tobacco hurts readiness." Smoking soldiers, she said, run more slowly, get sick more often, and perform more poorly. "And that's a fact – I saw it as a commander," she said, "during training, and in the field, and in combat." She said, "Pass Tobacco 21 and give your soldiers and airmen a real fighting chance."
Oleg Kouskov, a pulmonologist at St. Alphonsus Hospital, said he has to tell patients nearly every day that they have lung cancer. "The survival rate is 6 percent at five years," he said.
Andrea Jackson of Big Smoke and Tobacco Connection, told the senators, "This bill will be very bad for our business. … This bill is a solution looking for a problem. We have done a great job in Idaho of reducing youth tobacco use."
Anita Sloan, 17, a senior at Borah High School, urged the senators to support the bill, saying she sees friends using tobacco products and vaping, and glorifying them on social media. Asked if she thought raising the age would make them stop, Sloan said, "It will show people that this is a serious issue and that it's important to take it seriously how negatively effective these products are."
Dusty Wendland of Hailey told the senators they shouldn't just raise the age – they should ban smoking altogether, and then they should also ban alcohol, and for that matter, poor food choices. "I believe we shouldn't even be here today to discuss this," he said. Speaking of his 9-year-old son, he said, "When he becomes an adult he should be allowed to be an adult." He added, "I really would make much better decisions if you took them away, however I'm not sure that I'd be an American."
Dr. Jennifer Shalz, an internal medicine physician for St. Luke's Hospital, said, "Substance addiction rules your life. There's no freedom in that."
Margi Soni, a nurse practitioner in St. Luke's pulmonology clinic, said her patients are smokers and former smokers who are suffering and dying. "They say to me, 'I want to stop, I'm not an idiot, I know it's killing me.' … And then they say, 'I wish I'd never started.'" She said, "I have not a single patient that didn't start before age 21."
Rich Faw of Capitol Distributing said, "Tobacco's a legal product, and our 18, 19 and 20-year-old adults should have the right to choose whether to use this product."
Skip Smyser, lobbyist for the tobacco firm Altria, recalled young men from his hometown of Parma who died in the Vietnam War. "Anything that takes away from the fact that I viewed them as men, men that I commanded," he said with emotion. "They were men in the United States Army, 18, 19 and 20. … Anything that diminishes that. ... To take away from what these people were asked to do for their country ... and say that they were not adult enough, were not mature enough to make a decision to smoke. … I applaud the people that are here trying to educate and to discourage use of tobacco products, but to do it this way is wrong. … I ask you not to do anything that diminishes from them being adults."
Canyon County Commissioner Tom Dale, speaking for the Idaho Association of District Boards of Health, said the bill would reduce access to cigarettes that high school students get from fellow students who are 18. "People who join the military don't have 15-year-old kids following them around, being impressed by their actions," he said. "It's about the availability of cigarettes in the public schools."
---
---