Wed., Feb. 14, 2018
Testimony: 'A crucial part of the standards,' 'Scientific basis,' 'Age-appropriate, relevant and local'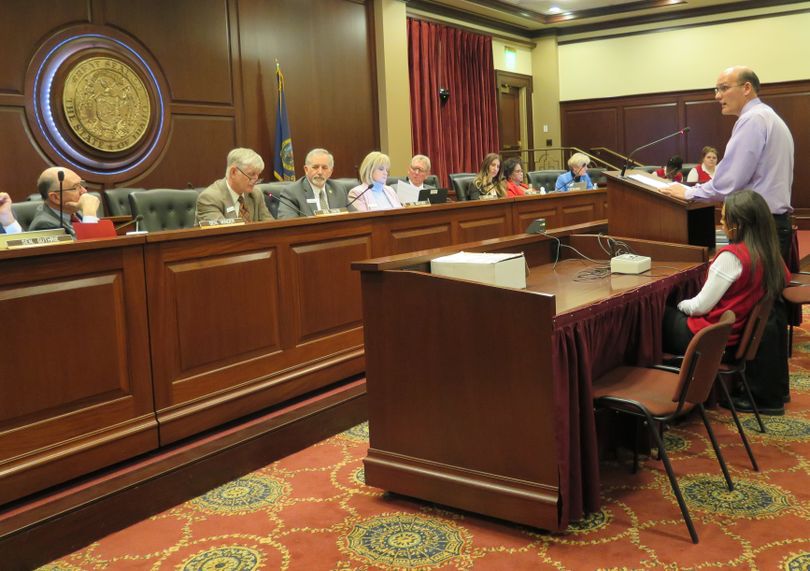 Some of the testimony from this afternoon's Senate Education Committee hearing on proposed new school science standards:
Chris Taylor, science and social studies supervisor for the Boise School District and a member of the state Department of Education committee that worked on the standards, said the supporting content, which a House panel voted to remove, is a crucial part of the standards. "To provide one without the other is truly a disadvantage for teachers and students," he said. He noted that math and social studies standards also include supporting content. "That supporting content tells teachers what they need to teach students to prepare to perform to that standard. … Without that in there, I feel it would be very broad, and it will burden our teachers to interpret those."
When Sen. Lori DenHartog, R-Meridian, asked Taylor if he thought it was the state's responsibility to provide content, he said school districts supply another piece: The curriculum to teach the content-supported standards to students, in the way that works best for them. "The supporting content pieces are huge, especially for elementary school teachers who don't have a background in science," Taylor said. He works with teachers in professional development. "That supporting content has been a huge help to prepare teachers," he said.
Taylor said last year, at the Legislature's request, the committee reworked one standard and four sections of supporting content. "Last week we were stripped of one standard, but we were also stripped of 25 pages of our supporting content," he said. "Comment about those has been very, very positive."
Alan Humble said told the committee, "I'm a guy who just cares a little bit about education." He thanked the senators for reminding him about today's hearing, and said he was amazed at how lengthy the state standards are. He read from one regarding climate change, and said he thought it was balanced; then read from others. "My point is on all of these that they go to great lengths of describing all the scientific basis for changes in global environment, whether it's warming or whatever it happens to be."
Angela Hemingway, executive director of the Idaho STEM Action Center, said she's served on the state's science standards committee since 2005; she spoke in favor of both the standards and the supporting content that's part of them. "The first goal of the supporting content is that it provides local, relevant examples that teachers could use," she said, stressing the word "could." "This is simply a choice for the teacher ... that would be age-appropriate, relevant and local."
Veronica Richmond, age 12, said it's the third year she's come back to the Legislature to testify in favor of the standards. "How are we to address and solve problems if we don't know what they are or what caused them?" she asked. "These standards in full will produce engaging Idaho citizens ready to compete in the world." To laughter, Richmond asked the committee not to make her come back again next year. Several senators said she's getting so good at this they'd like her to return.
---
---