Mon., Feb. 26, 2018
It's back: Scott brings new version of bill to limit repeat bond elections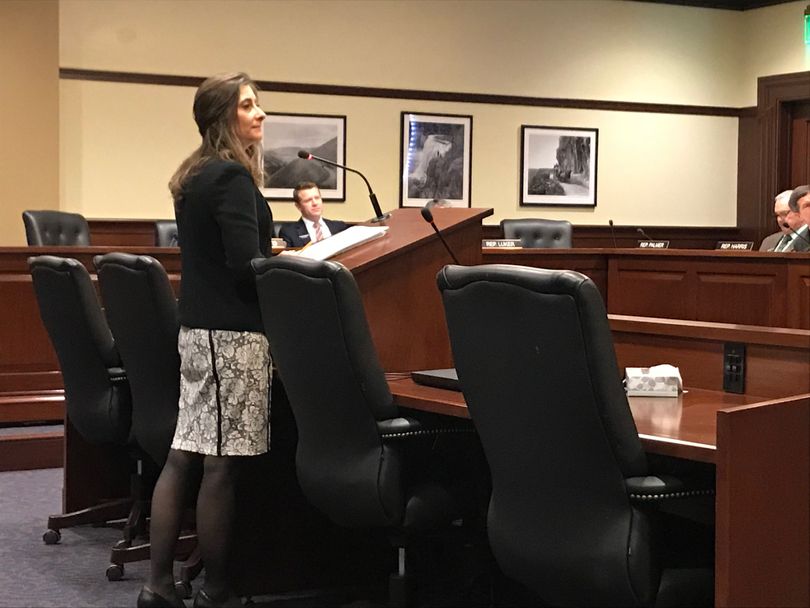 The House State Affairs Committee voted 13-1 this morning to approve a new version of Rep. Heather Scott's bill to limit repeat bond and levy elections – this time limited just to bonds. "This is the exact same bill we dealt with last week – it just removes levies and it just keeps bonds," Scott told the committee. "It's kind of a gentler approach, let's just call it that."
Scott said her original bill was meant to target "aggressive taxing districts" that keep returning to voters with proposals, albeit slimmed-down ones, that had previously been rejected. "I do believe we have a problem here," Scott said. "Obviously we're not going to get it fixed this year. But I do believe voters' voices need to be heard. If we have to start with bonds, fine."
Rep. Randy Armstrong, R-Inkom, tried to contain his laughter as he commented, "I don't know that there's hypocrisy or justice in presenting this right away – because that's … what the school district does to the voters, is to continue to do it over and over until it passes. But I applaud your effort and think it's a great idea."
The earlier bill, HB 487, was opposed by Idaho school boards, school administrators, cities and libraries, who said it would limit voters' choices. On Friday, HB 487 came up on the House's amending order, where Scott proposed a technical amendment – to limit repeat votes within 11 months, rather than 12 months as the original bill said, to account for years in which the November general election is on an earlier date than the previous year, making it less than 12 months later. But her amendment was rejected in favor of one from Rep. Paul Amador, R-Coeur d'Alene, to make both that change and to remove levy elections from the bill, leaving it applying only to bond elections. Bond issues typically authorize substantial long-term debt, as opposed to short-term tax override levies.
"I thought the bill … in its current state, was not good for the state of Idaho," Amador said. He noted that the vast majority of Idaho school districts now rely on supplemental tax levies, which must be approved by voters at least every two years, to fund their basic operations. If a tax levy fails, it makes sense for a district to revise it and try again for a lower amount, he said, if that's what their local voters favor. "I think we've got to put some faith in our elected school board trustees," Amador said on Friday.
Rep. Sally Toone, D-Gooding, also proposed major amendments to Scott's bill. But she, Amador and Scott all agreed to withdraw their amendments on Friday after Scott's amendment failed, and return the bill to committee.
Toone said this morning that she believed that meant the bill was dead for the session – not that it was coming back again today – and that's why she agreed to withdraw her amendments. She said she believes the change to just bonds helps school districts, but continues to pose problems for cities, sewer districts and other entities.
After Scott explained the new version of her bill, the committee this morning voted to send it directly to the House's 2nd Reading Calendar with a recommendation that it "do pass," without any further testimony or hearings; just Rep. Elaine Smith, D-Pocatello, dissented.
Karen Echeverria, executive director of the Idaho School Boards Association, was in the audience. "I still believe that we should have the four dates for bonds and levies," she said after the vote. "That was the compromise that was made when we went to consolidated elections, that we would always have the four dates."
The new version of Scott's bill will be assigned a bill number later today.
---
---