Tue., Jan. 16, 2018
State librarian: Library use is growing, especially among millennials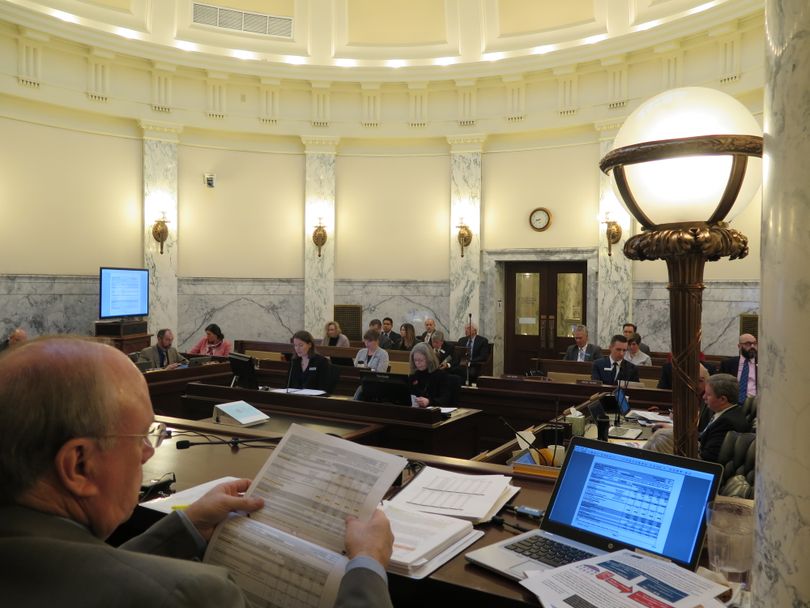 Library use is growing in Idaho and nationally, Idaho State Librarian Ann Joslin told state lawmakers on Tueday, especially among millennials.
"For those who think that public libraries are a relic of the past, a recent Pew Research study found that millennials … stand out as the most ardent library fans," Joslin said. "Their public library use is higher than that of older Americans. And they are particularly likely to say the library helps them find trustworthy information, learn new things and make informed decisions."
However, she said, school libraries are underfunded in many school districts in Idaho.
"School and public libraries have a significant role in promoting early literacy, and could do more if they were widely recognized as full partners," Joslin told lawmakers.
Joslin was making her annual budget pitch to the Legislature's budget-writing Joint Finance-Appropriations Committee.
"2017 brought great successes and recognition of Idaho's libraries, including the Boundary County Library District being named the best small library in America," she said. "I look forward to seeing what all of our libraries do in 2018 to make their communities better places to live and work, and if you haven't been in your public library lately, I would certainly encourage you to visit and see what they are doing."
JFAC members of the Idaho Legislature's Joint Finance-Appropriations Committee were highly receptive to Joslin's budget pitch. The Commission for Libraries requested an 8.3 percent increase in state general funds next year, but Gov. Butch Otter recommended a flat budget, actually showing a 0.8 percent decrease in state funding.
Rep. Neil Anderson, R-Blackfoot, asked pointedly why the governor didn't recommend funding for the library's largest proposed increase – a restoration of state funding for the "Talking Book" program for the visually impaired, at $90,400.
Gideon Tolman, budget analyst for the governor in his Division of Financial Management, said the governor believed the program could continue on federal funding. But lawmakers, questioning Joslin, expressed concern that federal funding could drop soon for the popular program.
Idaho shifted the funding for the Talking Book program to its federal grant funds in 2010, when its state funds were cut 18 percent during the economic downturn. Joslin's budget request said that's meant a decrease in grants to Idaho libraries that otherwise would have been covered by federal funding.
JFAC Co-Chair Rep. Maxine Bell, R-Jerome, shared the story of how her family relied on the service when her son, a teacher who suffered from multiple sclerosis, reached the point where he could no longer teach – but he still could take advantage of the talking books.
Idaho's 146 public libraries were visited almost 8.6 million times in 2016, Joslin said, and total program attendance has increased 30 percent since 2012. Plus, the state Commission for Libraries' emphasis on early literacy programs, including its "Read to Me" and summer reading programs, helped push Idaho to third in the nation last year for per-capita checkout of children's materials from libraries, and 6th nationwide for children's program attendance in libraries.
Last summer, more than 100,000 Idaho youth participated in local summer reading programs at their libraries, Joslin said, "a 5.6 percent increase over 2016's record high numbers."
The commission also is continuing to assist elementary school libraries that "lack the resources for current, age-appropriate books for their children to take out or read at home," she said. "Twenty-eight percent of Idaho's public elementary libraries received $100 or less per year to purchase books." So the commission has offered mini-grants to elementary school libraries; 43 schools used those grants to purchase more books, and 15 also used grant funds to add summer hours.
Joslin read from a message from one of the school principals, Kathy Baker of Greensferry Elementary in Post Falls, who recounted how a 1st-grader "told me how she reads her library books every night and especially loves the non-fiction books. We have never before allowed our 1st graders to check out books to take home," the principal wrote. "We can already see how much difference it is making."
The commission also has major initiatives in science and technology, including the fast expanding "make it" programs at local and school libraries, which are attracting record numbers of young adults to libraries – another area where Idaho now ranks third in the nation.
The commission also provides online materials to libraries across the state through the LILI, or Libraries Linking Idaho, program; and helps libraries improve their internet service and qualify for federal e-rate funds to help with those expenses. In 2017, Joslin said, Idaho libraries provided internet access points more than 2.3 million times.
"The agency is a valuable resource for our state's librarians and their staff," she said.
For next year, in addition to the Talking Books program funding, the commission requested $45,000 to expand e-rate services to local libraries to up their broadband reimbursements by 25 percent, but Otter didn't recommend that funding boost. He did recommend $19,200 in computer equipment replacement requested by the libraries commission.
The Idaho Commission for Libraries has a state general fund budget of about $4 million.
---
---