Wed., Jan. 17, 2018
House State Affairs refuses to introduce Loertscher's financial disclosure bill, kills it instead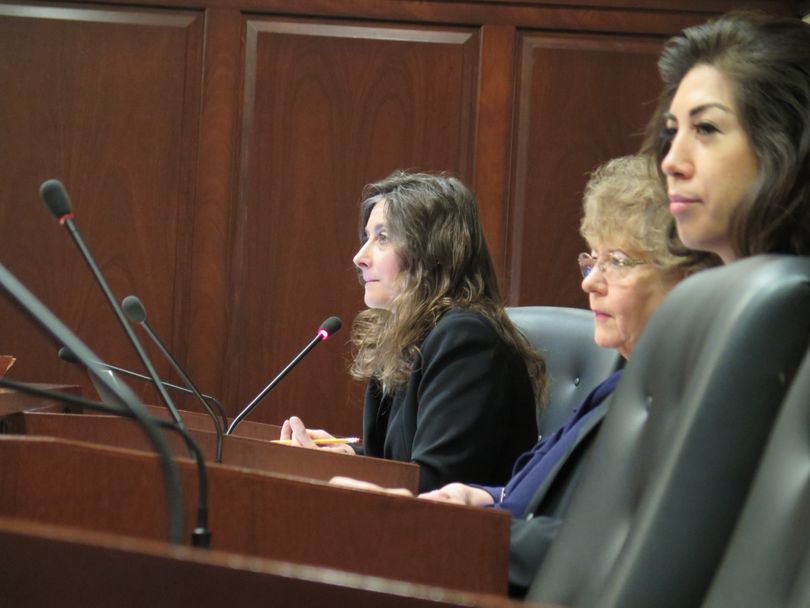 The House State Affairs Committee has killed legislation from its own chairman – endorsed unanimously by a legislative interim committee – to impose Idaho's first-ever personal financial disclosure requirement for elected officials.
"I don't see why this should see the light of day," said a visibly angry Rep. Vito Barbieri, R-Dalton Gardens. "I just don't agree that the Idaho public thinks that this body is full of dishonest individuals. I just don't buy that."
Rep. Christy Zito, R-Hammett, said, "I feel like we're on the edge of a George Orwell book with thought police here, asking people to disclose what they think, down the road, may be a conflict of interest."
The proposed bill would have required all candidates for elective office at the state, legislative, county or city level to file annual disclosures, identifying their primary employer and occupation or job title; all entities they own or for which they're an officer; each entity that has paid them $5,000 or more in income in the past year; each entity in which they own stocks or bonds valued at more than $5,000, unless they're managed by a third party; any boards on which they serve; and their spouse's name, occupation and employer.
All but two states – Idaho and Michigan – require public officials to disclose their personal finances, so citizens can judge whether as officials, they're acting in the public interest or in their own, private interest.
Rep. Steven Harris, R-Meridian, said officials and candidates might have to disclose "awkward" information. "I'll just say in my district, this doesn't come up," he said. "We're a citizen Legislature. They think we're one of them. … I think this thing is a huge damper to those who want to challenge us."
After Rep. Lynn Luker R-Boise, suggested several wording changes to the proposed bill, Harris said, "Improvement doesn't change the fact that this is an inappropriate piece of legislation."
Rep. Tom Loertscher, R-Iona, the committee chairman and the sponsor and author of the bill, told the panel, "Financial disclosure of elected officials is in your future, because this will happen at some point. The point of this legislation and the way this is written is to make this the least intrusive way I can think of for us to accomplish that."
But the committee refused even to introduce the bill to allow a full hearing on it. Only three committee members – Loertscher and Reps. Elaine Smith, D-Pocatello, and Paulette Jordan, D-Plummer – favored introducing the bill.
Committee Vice Chairman Jason Monks, R-Nampa, didn't vote because he was presiding over the committee so Loertscher could present his bill, but Monks said afterward, "I would have voted to introduce, absolutely. I think it was worthy of a discussion."
After the vote, Loertscher said, "What am I going to do? I'm not going to get it out of here. … This is State Affairs. I don't ever presume to try to out-guess this committee."
Rep. Heather Scott, R-Blanchard, objected that the bill didn't also apply to school boards and school officials. "Wouldn't we want transparency for everyone, instead of just some?" she asked.
Barbieri said years ago, his wife was fired from her job at a liberal law firm after comments he made at a gun-rights rally were published in a local newspaper. "To focus on legislator sources of income, spousal sources of income, is to put a target on our back to many groups and individuals nationwide that would work to silence various ideologies, various voices, by attacking the economics," he said. "We've seen that on a national scale with O'Reilly and Hannity."
Bill O'Reilly was fired from Fox News last year after news reports revealed that he'd paid millions to settle multiple sexual harassment lawsuits. Sean Hannity still hosts a show on Fox News; last year, some advertisers boycotted the show after Hannity made controversial comments about consensual relationships with minors, supportiing Alabama Senate candidate Roy Moore.
Barbieri said, "This is not benign. This information is used as a sword to attack sources of income of individuals wherein statements of ideology are made, to silence them."
Zito said, "I know that for me, most of the constituents in my district, if they want to know something they can ask, and I'm more than happy to share with them."
---
---