Wed., Jan. 31, 2018
Otter signs first bill: Unemployment insurance tax cut for employers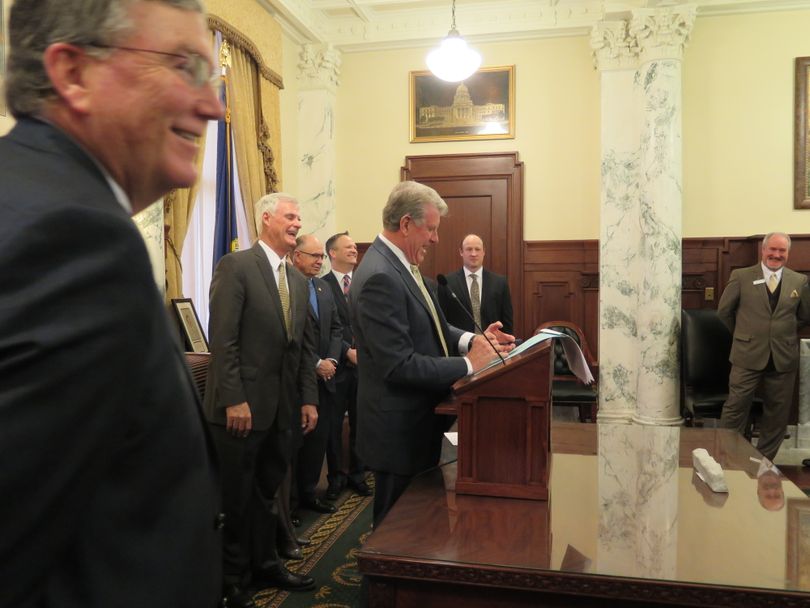 Gov. Butch Otter has signed the first bill of the session into law – HB 335, the unemployment insurance tax cut for Idaho employers. "This is about a year overdue," Otter said. "I've got to thank the legislative leadership for their leadership and for their efforts, because, I'll tell ya, this was a unanimous vote in both bodies. I've got a couple others I'd like to see that."
The cut will save Idaho employers $115 million over the next three years without costing the state general fund anything; it's possible due to a robust unemployment trust fund that's built up well beyond the level needed for reserves. The bill was proposed last year, and though widely supported, it got killed in the crossfire between the House and Senate over other tax cuts. This year's version contains an emergency clause, making it retroactive to Jan. 1, 2018.
Senate President Pro-Tem Brent Hill, R-Rexburg, said, "This is a tax cut for every single employer in the state of Idaho – everyone who has employees is going to get a tax cut here. We're working on a few other tax cuts as well, but right now this is a good base hit, and we'll see if we can get some home runs a little bit later in the session."
House Speaker Scott Bedke, R-Oakley, started to refer to "last year," then said, "oh, er, anyway, all's well that ends well, right?" Amid laughter, Otter said, "Better late than never!"
When Bedke said, "This was as easy as falling off a log," Otter put in, "Or a horse!"
House Majority Leader Mike Moyle, R-Star, said, "I just want to thank the governor, because if it wasn't for him, this wouldn't have happened. He was adamant about getting it done. … Hopefully we can do the same on the next bill that deals with tax relief for everybody."
Idaho Department of Labor Director Melinda Smyser said, "It's going to help all businesses, from small to large."
Otter, as he signed the bill into law, commented to laughter, "I want you to know this is within five days. … I learned my lesson."
Asked what he'd think if this is the only tax bill that passes during this year's legislative session, Otter first said, "Next question," then, amid more laughter, said, "I think with this bill, and with the relationship that we have built, we're going to see a lot of collaboration, we're going to see a lot of things come down. I'll just say that."
---
---