Mon., March 5, 2018
Lots of schoolkids on hand as state marks 'Idaho Day' today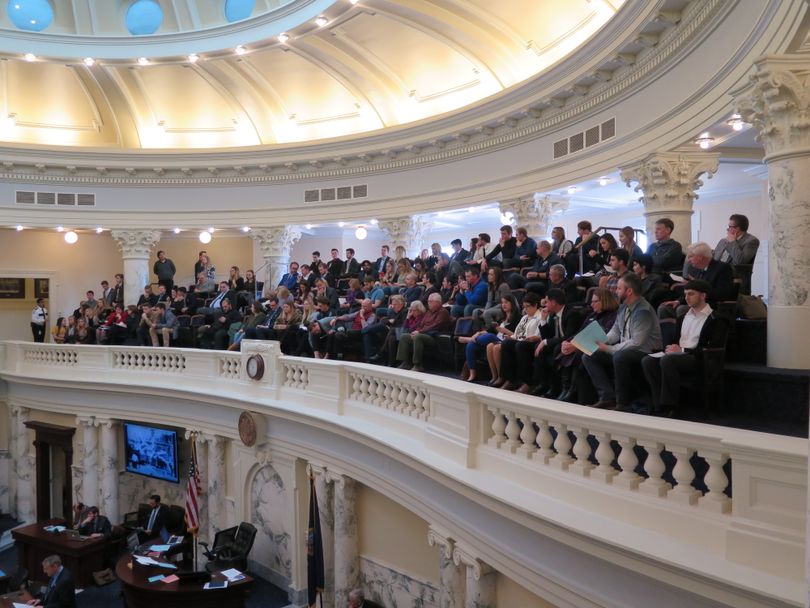 The House gallery is full today, and there are lots of school groups in the Capitol, as the state marks "Idaho Day." The House is holding its commemoration now, and the Senate plans one as well; from noon to 1 in the Lincoln Auditorium, a public ceremony will be held, coordinated by the Idaho State Historical Society.
The theme of "Idaho Day" this year is "Idaho Remembers," in honor of the 100th anniversary of the World War I Armistice and all Idaho Veterans who served. The House's commemoration will include music, historical presentations, and an address from retired Idaho Supreme Court Chief Justice Jim Jones.
The Senate's program will include a re-enactment with Skip Critell as Abraham Lincoln performing, "Why Idaho?" along with a performance of the state song, "Here We Have Idaho," performed by Breanna Williams.
Jones told the House, "On March 4, 1863, President Abraham Lincoln signed the bill establishing the Idaho territory." That's the historical event that Idaho Day marks; this year, because it falls on a Sunday, the commemorations are today, on a Monday.
Idaho Day was designated by the Legislature in 2014 at the urging of then-Rep. Linden Bateman, R-Idaho Falls.
---
---