Fri., March 9, 2018
JFAC sets final agency budget for next year: $400K for wolf control board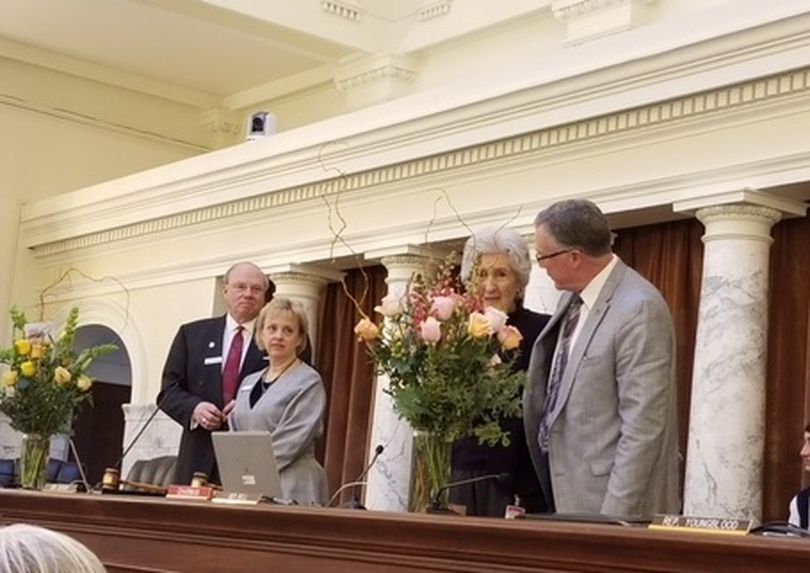 Legislative budget writers today, in the final agency budget to be set this year, approved $400,000 in state general funds next year for the Wolf Depredation Control Board to use to contract to have problem wolves exterminated. Gov. Butch Otter had proposed that the funding drop to $220,000 next year – it's been $400,000 a year for the past five years – and that the board be made permanent; it was otherwise scheduled to end after this year. Instead, Rep. Judy Boyle, R-Midvale, the House Agriculture chair, proposed legislation to just extend the board for one more year at the current funding level.
The wolf board currently has $870,234 in the bank; with the additional $400,000, that'd bump up to $1.27 million.
Rep. Phylis King, D-Boise, proposed an alternative budget plan calling for no additional state funding for the board next year. "They have plenty of money – they don't need any more," she said.
Rep. Sage Dixon, R-Ponderay, seconded King's motion, but they were the only two members of the 20-member Joint Finance-Appropriations Committee who voted in favor of it. The original proposal from Senate Resources Chairman Steve Bair, R-Blackfoot, then passed 18-1, with only King dissenting.
"This is part of a long-term agreement to deal with depredation of livestock" and wildlife, Bair said, "as the result of wolf introduction." He said the amount needed each year fluctuates depending on weather and other conditions.
"When this legislation was first proposed by the governor, he asked for a one-time appropriation of $2 million to be put into the account to be used over the time frame of five years," Bair said. "The Legislature negotiated with the governor's office and the stakeholders, and it was decided that a better way to handle that would be to appropriate $400,000 each year for five years."
Sen. Abby Lee, R-Fruitland, said, "We are making, I think, limited progress, but hopefully some progress in dealing with the results of the introduction of these wolves. … My district is highly impacted." She said, "These dollars are necessary. … These are much-needed dollars to fulfill our comprehensive plan on wolf management."
The funding bill still needs House and Senate passage and the governor's signature to become law, but budget bills rarely change once they're set by the joint committee.
As agency budget-setting concludes for this year, JFAC took a break today to honor its co-chairs, Rep. Maxine Bell, R-Jerome, and Sen. Shawn Keough, R-Sandpoint. Both longtime lawmakers are retiring after this year; budget committee members honored their service and accomplishments with flowers and a standing ovation.
JFAC still will have more meetings this session, but the bulk of its work is done; the remainder consists of trailer appropriations that trail after bills with fiscal impact, and other changes or corrections that follow up on agency budget setting. The joint committee, which usually meets every morning at 8, won't meet on Monday.
---
---