Tearful Rep. Perry: 'They can't get medical care, they can't get help'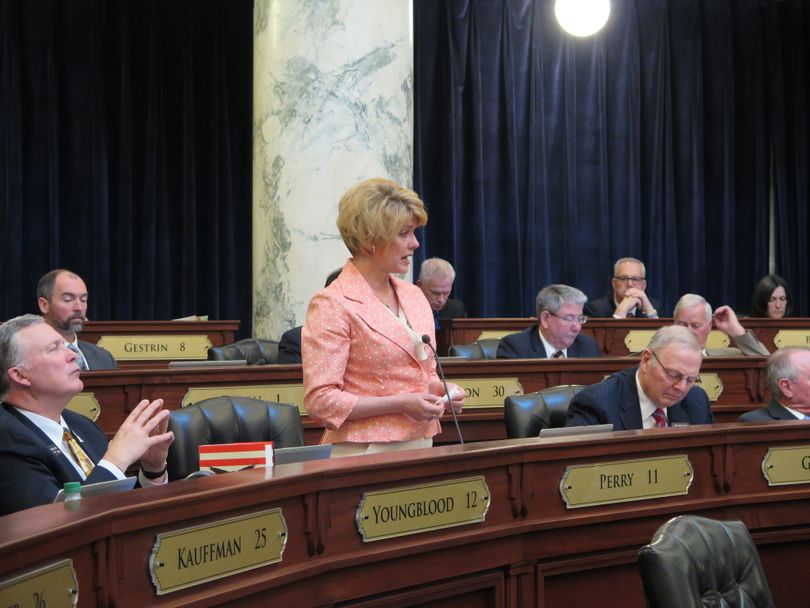 A tearful Rep. Christy Perry, R-Nampa, spoke out against the move to return the governor's health care bill to committee. "I have been all but spit on in this body for bringing it back," she told the House. "I don't give a damn what anybody thinks of me in this… I came here … to represent my people who have cried to have some movement in this particular arena. They can't get medical care, they can't get help, they work a couple of jobs and they've asked." You can read my full story here at spokesman.com.
Among others speaking against the move is Rep. Eric Redman, R-Athol, who said, "I'm very disappointed. As I respect the representatives here, I do not respect the political process, and this is politics. I vote no."
Rep. Ilana Rubel, D-Boise, told the House, "People shouldn't suffer for refusing to be sheep," at which point she was cautioned by Speaker Scott Bedke. "We are not here to protect our incumbency and to protect ourselves from taking hard votes. It's our job to take hard votes," she said. "I think it's profoundly irresponsible to the people of Idaho ... on an issue which has faced the state of Idaho for six years, on which there has been no action. … I think it is really doing wrong by the people of Idaho to not take a vote on this today."
Rep. Margie Gannon, D-St. Maries, said, "If you're that worried that your vote is going to look bad somewhere, maybe you need to rethink your vote."
Rep. Fred Wood, R-Burley, said, "We have to play the long game. This is a wonderful concept, the White House wants this concept. But we have to play the long game here. This bill will not go anywhere this year, never was going to go anywhere this year, for a variety of reasons, some of which are not political. It wasn't soup yet. … There isn't anybody in this building that's more disappointed about health care than I am. We do have to survive to play for a different day and win the ball game, and that we will do."
Rep. Phylis King, D-Boise, said, "We have six years of letting people suffer and we still haven't had a debate and a vote."
Rep. Marc Gibbs, R-Grace, said, "I support this bill and would vote yes for this piece of legislation. But when my good friend from 27 (Wood) tells me that it's not soup yet, I know him pretty well. ... You've got to have 36 votes in this body, 18 across the street and the governor's signature. … We could cast a vote in here and that's fine, but the bill's not going anywhere. And if the good gentleman says it's not soup, believe me, he's a pretty good cook."
Rep. Sally Toone, D-Gooding, noted that the House Health & Welfare Committee sent the bill to the full House for a vote not once, but twice. "There are 70 of us that should have the right to talk about that," she said. "That committee said let it happen on the floor. … Most of all, we owe it to the citizens of Idaho at this point to have that vote after six years."
Rep. Kelley Packer, R-McCammon, who is running for lieutenant governor rather than seeking re-election, also spoke out against the move. "I do not believe that this should go back to committee," she said. "We regularly, regularly debate bills on this floor, we even kill bills on this floor, even appropriation bills, and I don't understand why this one needs to be a sacred cow. We even have close votes, just like the Opportunity Scholarship, where a bill barely passes and it takes bipartisanship to get it off the floor."
Packer said, "The committee process is supposed to define and work through the merits of the bill to the point whether it should come to the body or not for full discussion, and that happened, it's happened twice. And yet we're being told that we don't get to have that opportunity. I think that's really unfair and very disappointing."
Perry said, "I don't believe in my entire career have I ever debated twice on a bill, but I'm going to do it today. … I'm not the only person in this room that it's important to. … I want you to take into consideration that stifling debate on the floor is never healthy in any environment. I want you to take into consideration that this committee sent this bill back twice. In my time in the Legislature, I don't think I've ever seen that."
"This isn't just about the gap population," Perry said. "This is about our health care premiums - that our insurance premiums have risen 91 percent in three years."
Rep. Thyra Stevenson, R-Lewiston, interrupted with an objection, saying Perry wasn't debating the motion, but the bill.
"I think our constituents should hear our voices in this body and not just echoing in the halls," Perry said. "I think it deserves the vote."
---
---