Fri., March 23, 2018
Otter on internet sales tax bill: 'Putting Main Street on the same footing as internet sales'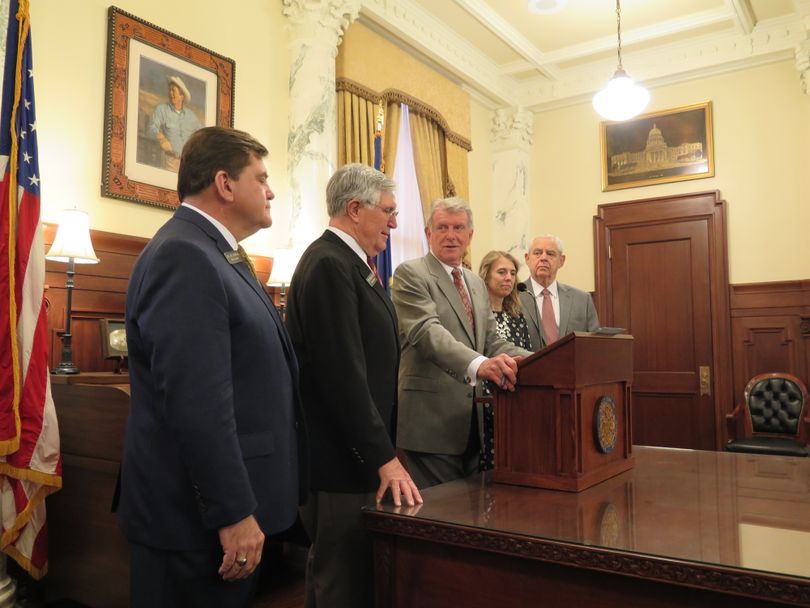 At a ceremonial signing this morning for HB 578, the internet sales tax bill – which Otter actually had already signed into law – the governor congratulated Rep. Lance Clow, R-Twin Falls, who has proposed a bill on the topic every year for the past six years. "The important thing about this is we are putting Main Street on the same footing as internet sales," Otter said. Idaho retailers long have complained that they're being undercut by online sellers who don't collect and remit Idaho's 6 percent sales tax, but they have to do so. The tax technically still was due – Idahoans are supposed to report and pay it on their state income tax returns, but many don't.
Otter said he was asked if he'd support collecting Idaho sales taxes on internet purchases during a talk to the Boise Metro Chamber of Commerce back in 2008. "I said, 'If you can figure out a way to do it,'" he recalled.
Clow said his first proposal was 80 pages long; the final bill ended up at two pages, and estimates that Idaho could collect between $22 million and $37 million more in sales taxes next year as a result. "The fiscal note would be much larger if Amazon hadn't caved last year," Clow said.
Sen. Mark Nye, D-Pocatello, said he's continually heard from a constituent who owns a Big O Tires store in his district – who shows him "the list of people who have bought tires online. They bring them in for him to put them on, and he doesn't make any money."
Pam Eaton, head of the Idaho Retailers Association, said, "It's been a long time coming, and our Idaho retailers are so grateful."
The bill still wouldn't require all remote sellers to collect and remit Idaho sales taxes; it would require those with an affiliate retailer in Idaho who sells $10,000 or more a year to do so. But Clow said that's expected to capture the bulk of remote sales to the state, now that Amazon.com has signed a voluntary agreement with the state to collect and remit the tax on its sales to Idaho.
---
---