Fri., March 23, 2018
Otter signs school threats bill, says more work still needed to make Idaho's schools safe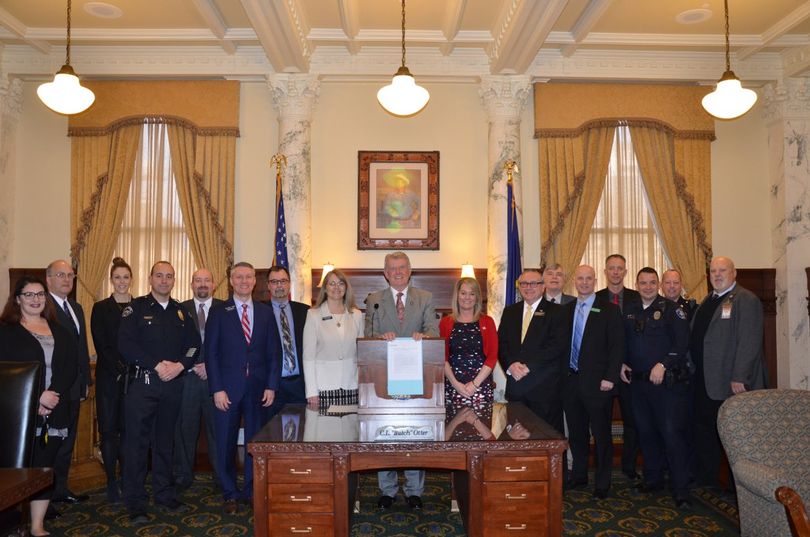 Gov. Butch Otter assembled a large group of backers as he signed the school threats bill into law today. "It is signed, and it is now law, because it has an emergency clause," he said to loud applause. The bill, HB 665, expands Idaho's current law regarding school threats to include threats of violence made from off-site, including by phone or social media. Threats would be misdemeanors; showing up with a deadly weapon in furtherance of the threat would be a felony.
Otter called it "a bill that is well-thought-out," and said, "They've done a tremendous job as far as I'm concerned of crafting a beginning piece of legislation for trying to stop school violence. We haven't had, with a couple of exceptions, the incidents in Idaho that most other states have witnessed, and I've talked to my colleagues in Florida and Texas and Maryland and other places any time there is one. Generally we find out that some threat or some accusation was made off campus, or was made on campus and nobody paid any attention to it. So with these folks' help, I think we begin the process of making sure that we're doing everything we possibly can to keep our kids safe while they're in school."
Rep. Patrick McDonald, R-Boise, a retired police officer and U.S. marshal and one of three co-sponsors of the bill, said, "It's a response to those that demonstrated here at the Capitol a week or so ago, that wondered what government was going to do. And government has started to respond, and we are committed to respond. We are committed to keeping these campuses and these instructors and these students safe, and we're going to continue the battle. … Hopefully we can eliminate this threat here as best we can, here in the state of Idaho."
Close to 2,000 people, most of them high school and junior high students, rallied against gun violence at the Capitol last Wednesday, in the wake of the Florida school shooting that left 17 dead.
Rep. Brent Crane, R-Nampa, said, "This is an extremely important issue in the state of Idaho. Our most valuable resrource is our children, and we must do what we can to keep our children safe, and governor, I agree with you – this is a good first step but there is still more work to do."
Paul Jagosh of the Fraternal Order of Police, which co-sponsored the bill along with Reps. Wendy Horman, R-Idaho Falls; John Gannon, D-Boise; and McDonald; said, "We put our lives on the line for our citizens every day. We'll certainly come up here and fight for our students and our kids and law enforcement to provide a safe learning environment for our schools."
Horman said, "Let's keep in mind why we're really here today, and that is our students."
---
---