Tue., March 27, 2018
Interim committees start meeting today; campaign finance panel reviewing bill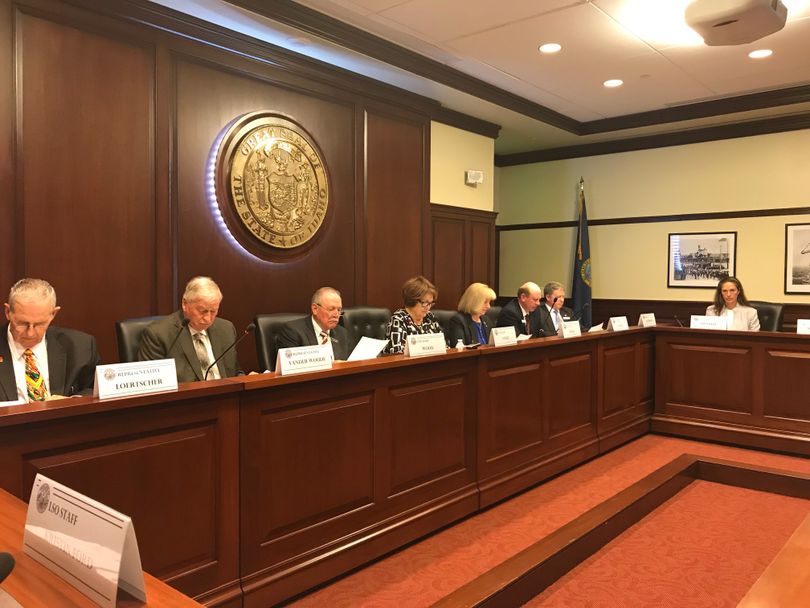 Several legislative interim committees are holding their first meetings of the year today, including the Campaign Finance Reform Interim Committee.
Phil McGrane, chief deputy Ada County clerk, described SB 1337 to the panel, at co-chair Sen. Patti Anne Lodge's request. McGrane said he's been working with Lodge and stakeholders over the past several months to try to address concerns lawmakers might have had about the working group's original proposal, HB 573.
"It was printed and that was the end of its fate at that point," McGrane said of HB 573, "and I think it was reluctantly printed, based on my observations of the committee that day."
SB 1337 is a refined version of HB 573, which was introduced by the Senate State Affairs Committee and had an informational hearing before that panel on March 16.
Overall, the measure requires more frequent and more detailed campaign finance reporting, extends reporting requirements to local elections, and requires entities doing independent campaign expenditures and out-of-state entities donating large sums to Idaho PACs or candidates to identify the source of the money.
The proposal includes centralizing all campaign finance reports on a single, searchable database managed by the Idaho Secretary of State's office, including those from local elections. Those running campaigns at any level of government would be subject to reporting requirements, but only once they've raised $500. It also expands the reporting requirements to include local recall and special elections.
The bill's effective date is July 1, 2019.
"I think one of the challenges ... was there was a lot packed into one really big bill, and as a result that complexity in taking such a large bite made that difficult to move it forward," McGrane said. "So one of the recommendations I'll be having ... is potentially breaking that up into smaller bits."
McGrane presented a color-coded version of SB 1337 to the committee, to indicate where it might make sense to break it into several separate bills.
The major differences between SB 1337 and HB 573 are a narrowed definition of "electioneering communication" to just paid communications; removal of a proposed requirement that those doing independent expenditures and electioneering communications disclose top donors and state who is responsible for or authorized the communication; requiring monthly reports for four months before each election rather than year-round, and also monthly while an initiative or referenda petition is being circulated; setting maximum fines at $1,000 vs. $2,500; removing a clause requiring disclosure of boards of directors for out-of-state political committees that contribute more than $1,000; and changing the definition of the point of an expenditure from when it was obligated or contracted, to when the communication reaches potential voters or when a good or service is delivered.
The bill also is drafted differently, to make the changes more clear; instead of repealing and replacing sections of law, it uses a strikeout and underline format.
Idaho Secretary of State Lawerence Denney requested $1.2 million in his budget next year to upgrade the campaign finance reporting system and allow the new statewide, searchable database, among other changes. Although JFAC initially rejected the request, the joint budget committee reconsidered, and approved the expenditure. With that, McGrane said, "I believe the 2019 date will still work."
Tim Hurst, chief deputy Secretary of State, told the interim committee, "We are actively soliciting information about that right now, in fact we have four vendors lined up to come and demonstrate their applications. You're invited to those. .. The first one is April 11."
Hurst said the Secretary of State's office hopes to release an RFP in May or June, and award the bid in June or July, "so we can get started as quickly as we get some money to do that."
After some discussion, including the possibility of breaking the big bill into parts and also looking at reforms to the lobbying portion of the state's Sunshine Law, the interim committee set its next meeting for June 12.
---
---