Tue., March 27, 2018
The tale of the tie…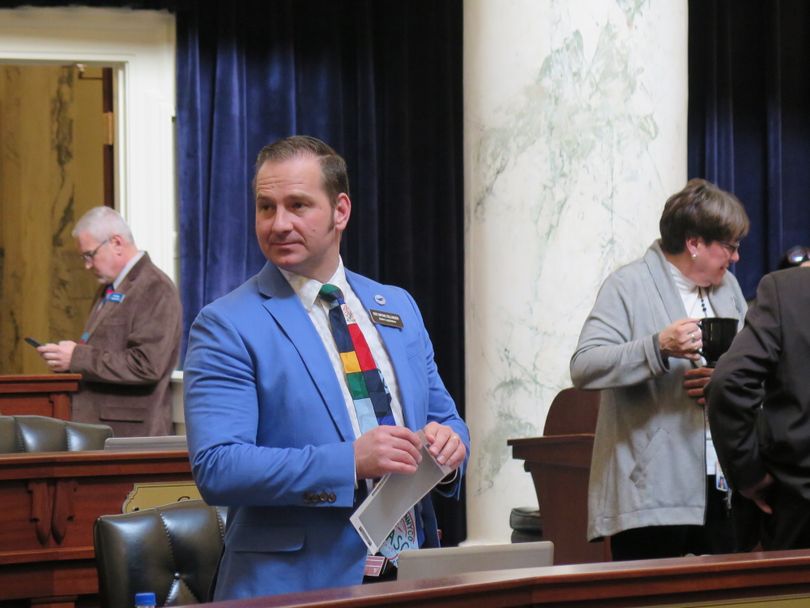 Fourth-term Rep. Vito Barbieri, R-Dalton Gardens, has tried to carry on a tradition passed down to him from former Rep. Jim Clark, R-Hayden Lake, of wearing a different tie each day of the legislative session, and never a repeat. That requires lots of ties, and Clark also passed down a passel of 'em to Barbieri, who said he has "a ton." Three weeks ago, Barbieri was wearing one of those ties, a colorful one, when Rep. Randy Armstrong, R-Inkom, complimented him on it. "It was in the evening, and I took it off and gave it to him," Barbieri said.
The next morning, House Speaker Scott Bedke took notice prior to the start of that day's House session that Armstrong was wearing Barbieri's tie. "Then the speaker called me from up there, and said, 'nice tie,'" Barbieri said. "I said, 'I don't have it any more – I gave it to Armstrong.' The next day, the speaker was wearing it."
From there, the tie-sharing took off, with a different House member showing up wearing it each day. Among those who've modeled the tie in the House: Reps. Marc Gibbs, R-Grace; Tom Loertscher, R-Iona; Caroline Nilsson Troy, R-Genesee; and Karey Hanks, R-St. Anthony. Today, it was Rep. Bryan Zollinger who was wearing the tie, making a color statement with his bright light-blue jacket.
Representatives continued the tie pass-around while Barbieri was out for a full week with the flu, in honor of the missing member.
"It was still here floating around," Barbieri said. "The momentum was astounding."
He said he never knows who'll show up in the tie next. "I was surprised that Rep. Zollinger had it today," he said. "I'm just flattered and delighted that we've had something fun floating through, very subtly."
Barbieri figures the irony is since he's only worn the tie once a session since he's had it, and Clark only wore it once a session for a decade prior, "It was worn more this session than it's been worn in the last 20 years."
---
---