Wed., March 28, 2018
Otter says he'll 'treat' the anti-trespassing bill before 5:18 pm today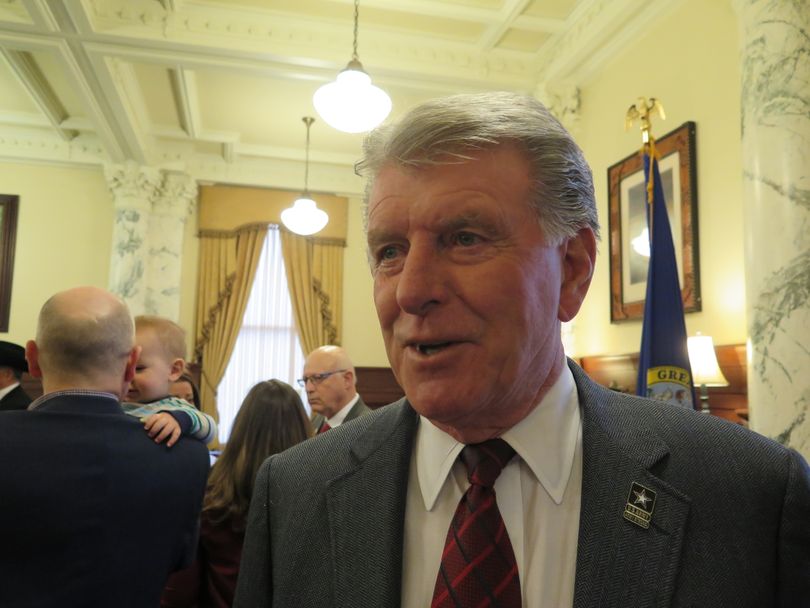 After a ceremonial signing ceremony in his office this morning for HB 634, the Jason Flatt Act, which requires suicide prevention training for all school personnel in Idaho, Gov. Butch Otter talked briefly about the current task he's facing – making decisions, in a short time period, on all the remaining bills that lawmakers passed this year, including three on which he's indicated he has concerns.
Otter declined to comment directly on his plans for HB 658a, the controversial anti-trespassing bill. "I'm not going to let the cat out of the bag yet," the governor said. "I will be treating and dealing with it before 5:18 p.m. today," which is the end his five-day period to act on the bill.
Otter said in his past 11 years as governor, "We normally are watching bills all through this as they come along, and then we get a big slug at the end of the session." Typically, the 10-day period he had to act on those after lawmakers adjourned and left town allowed him time to sort through those carefully, he said. But now, with the Legislature's decision this year to postpone its adjournment until the full five days have passed during which Otter must act on bills while they're in session – or they automatically become law without his signature – Otter said the task is a formidable one.
"Especially if they were amended," he said. "You still have to ask yourself: Are there any unintended consequences here?" He said that's of particular concern with a law that "has to be enforced at the point of a gun."
Among issues he must weigh, he said, are Attorney General's opinions on the bills. "Then overlay those with, we passed this bill that did this and that bill that did that." Otter compared the interactions between various pieces of legislation to a pharmacist handing over a prescription, and "saying, 'What else are you taking, because this could react negatively.'" And then, he said, "When we have this shortened time period…"
Otter said he takes seriously such measures as allowing bills to become law without his signature, "to send a message" about provisions lawmakers should look at fixing the following year.
---
---