Thu., March 29, 2018
Otter on legislative session: 'Proud of the work'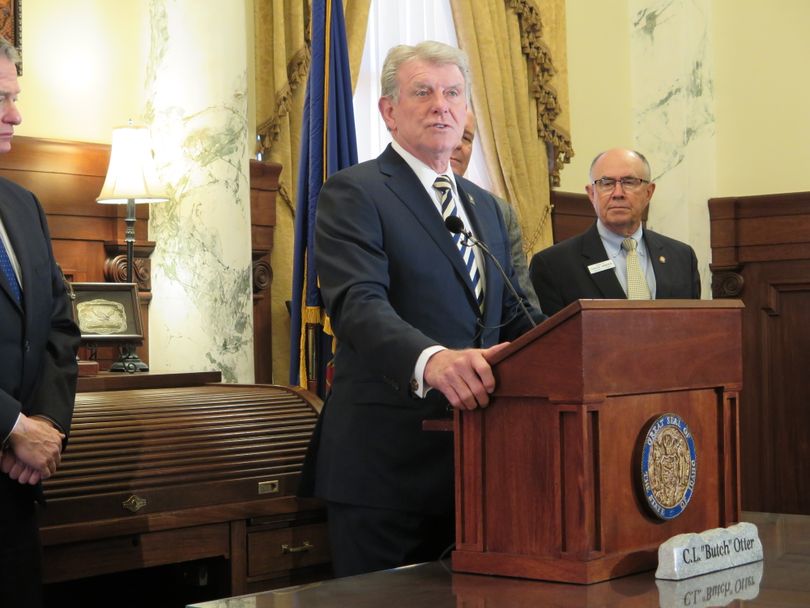 Idaho Gov. Butch Otter pointed to education improvements at the top of his list of what he saw as the accomplishments of this year's legislative session, along with expanding behavioral health crisis centers; consolidating the state's information technology services under the governor's office; expanding the state Department of Lands' ability to harvest federal timber under Good Neighbor Authority, including the addition of 12 new foresters; and $130 million in net income tax cuts. "The reductions this year brings the total tax relief since 2010 to $1.6 billion," Otter declared.
Standing with GOP leaders from the House and Senate, Otter said, "We made a good run at some things that didn't end up happening, but we also got a lot done that will help people accomplish their own goals for years to come. There have been some setbacks. But I'm not nearly as disappointed about them as I am proud of the work the Legislature and my administration have done together over the past 12 years."
Chief among those setbacks was the Legislature's failure, for a sixth straight year, to take any action on the state's health coverage gap, though Otter put forth a unique dual-waiver proposal that could have covered about half of the Idahoans who now fall into the gap. The governor said he lobbied hard for his bill, reaching out directly to lawmakers. "I brought 'em down to the office, I made phone calls as well," he said.
Asked what resistance he heard, he said, "A lot of the bullet points came right out of the Freedom Foundation's hate book. It was things like, 'We're expanding Mediciad,' 'We're growing government,' 'We're making people dependent on government."
Otter said he remains confused as to how the Idaho Freedom Foundation can operate as an active lobbying and electioneering organization while also claiming to be a nonprofit education organization. "But somebody else will have to ask that, I guess," he said.
The governor said the final bill he signed into law this year was the $25 million expansion in the new Idaho Child Tax Credit, which earlier tax-cut legislation set at $130 per child, while the follow-up bill pushed that up to $205 per child. "It was intentional," Otter said. "It was a great way, as far as I was concerned, to end a good session and to add to the largest tax relief we've ever given in the state of Idaho."
Otter also said he'll continue to work on health care during his remaining nine months as governor. "There are still some things that we can do," he said. "We're still in discussions" with federal officials.
He said he won't pursue the dual waiver plan on his own. "Under the dual waiver, whatever I would have done unilaterally, I would've still had to come back to the Legislature to fund it."
But Otter invited state Insurance Director Dean Cameron up to discuss additional steps still in the works. Cameron said both the dual waiver plan and the proposal for Idaho to allow the sale of some state-based insurance plans that don't comply with all Affordable Care Act requirements "warrant additional exploration."
Cameron said some changes could be in store at the federal level to make it easier to do things like allow part of Idaho's gap population to qualify for subsidies to buy private insurance plans through the state insurance exchange. "If that becomes easier, we'll be back asking the Legislature, we'll be back working on it, and maybe there's some steps we can take in the interim," he said.
Today marked Otter's final post-legislative session press conference of his three terms in office; he said he sees no possibility of a special session of the Legislature being called in the coming months.
Senate Majority Leader Chuck Winder, R-Boise, said, "I think he did an admirable job of making education his legacy. … It was a great run for three terms."
---
---