Tue., May 1, 2018
Democratic governor candidates talk wage gap in final debate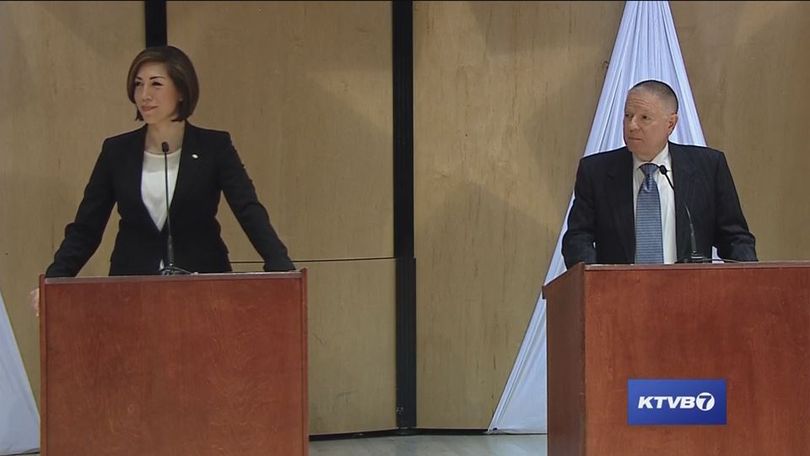 Here's an article from the Associated Press:
By Kimberlee Kruesi
BOISE, Idaho (AP) — Idaho gubernatorial candidate Paulette Jordan labeled her Democratic challenger A.J. Balukoff as out of touch in their second and final televised debate on Monday.
The 38-year-old Jordan's attack stemmed from 71-year-old Balukoff's promise to work toward eliminating the gender wage gap in Idaho — an issue that has become a priority for the Boise businessman.
"It starts with educating people who are in denial," Balukoff said. "And then we work through the Department of Labor and other resources that we have to make sure there's equal pay for equal work throughout our state.... I don't know if there needs to be legislation so much as education and working with private employers where we see a problem."
Jordan, who is a member of the Coeur d'Alene Tribe, was quick to criticize Balukoff.
"We have a candidate here who is very out of touch because I think we're all well aware — as a woman myself, as a woman of color — we know that even a woman of color is paid far less than the average woman who is paid far less than men. So if you're getting three-quarters of the dollar and the woman of color in the state is getting half a dollar that's a major problem."
Balukoff's statements during Monday's debate differed from what's currently on his campaign website, which read Balukoff will "bring the fight to the Capitol by working to pass meaningful legislation" regarding the pay gap.
If elected, Jordan would become not only Idaho's first female governor, but also the first Native American woman to be governor in the country.
Jordan supports pushing legislation requiring business owners to offer an equal livable wage to their employees.
"Legislation can be pushed to push this issue," she said.
"As a businessman in downtown Boise who employs more than 400 employees, I am not out of touch," Balukoff said. "I know what's going on and I know what the wages are and I know in my businesses we do pay equal pay for equal work."
Balukoff has served on the Boise School Board since 1997 and works as an accountant. He co-owns Boise's Grove Hotel and the CenturyLink Arena
Both candidates agreed the state's minimum wage, which is currently set at the federal rate of $7.25 an hour, should be increased over time, and tied to increases in the Consumer Price Index.
However, in Republican-dominant Idaho, it has been an uphill battle both to budge GOP lawmakers' resistance from increasing the minimum wage, as well as to elect a Democratic statewide candidate.
Monday's debate was hosted by KTVB-TV.
---
---