Sun., March 31, 2013
Camaro Z/28 is back and ready to go racing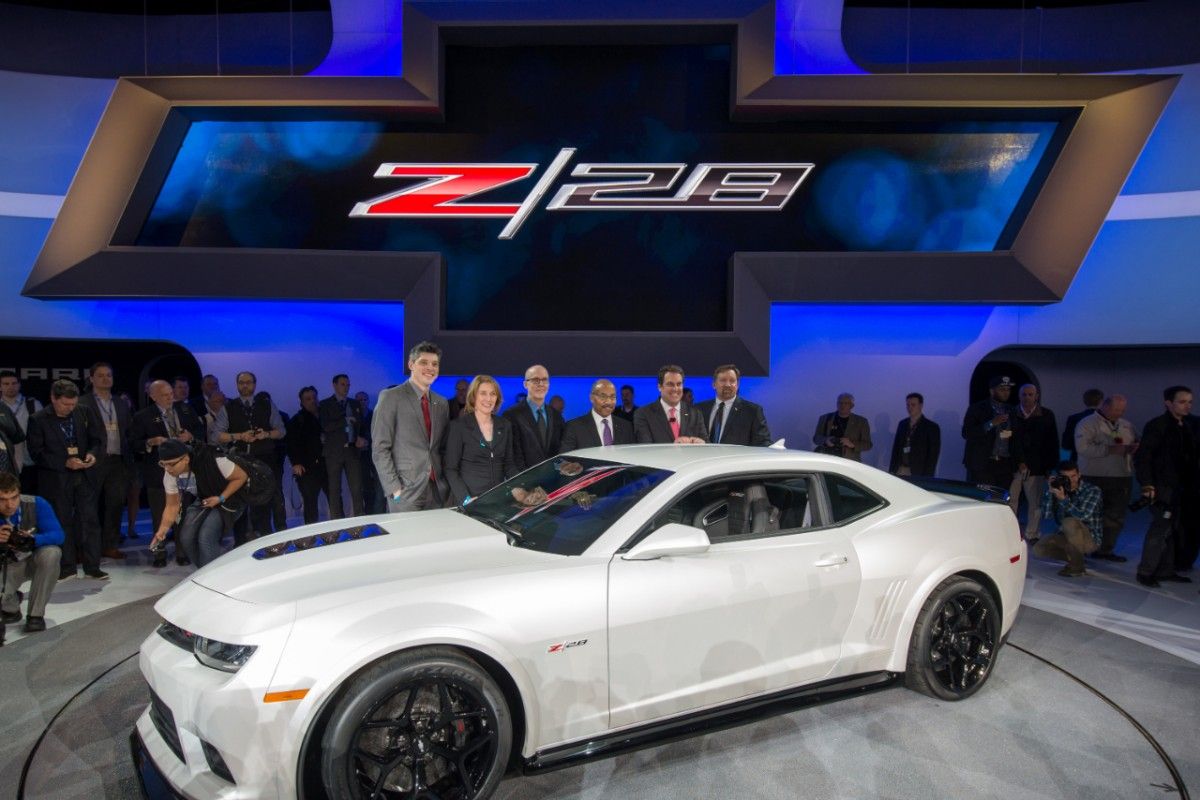 (General Motors / General Motors)
The big three only have so many legendary nameplates they can reanimate from the glory days of the muscle car. Chevrolet played Camaro's most valuable card this month with the reveal of the 2014 Z/28. If what Chevy says proves to be true, it won't be the most powerful Camaro money can buy, but it will certainly be the fastest model they've ever built for the track that can be driven there from home.
"We set out to make the fastest road-racing Camaro possible that was still street-legal," said Al Oppenheiser, Camaro chief engineer. "While the Camaro ZL1 offers exceptional performance on the street, the drag strip, and the track, the Z/28 is entirely focused on the track performance. The Z/28 will be too track-focused for most drivers, but offers road-racers one of the most capable track cars ever offered from an automaker."
In keeping with the Z/28's heritage, massive horsepower took a back seat to all-around performance. That isn't to say the new Z/28 is a slouch. Official power ratings are yet to be released, but Chevrolet says its naturally-aspirated 7.0-liter LS7 small block V8 will deliver at least 500 horsepower and 470 pound-feet of torque. Compared with the kingpin CamaroZL1, which pumps out 580 horsepower from a supercharged 6.2-liter V8, the Z/28 is relatively tame.
"The LS7 is ideal for road racing because it delivers amazing performance in a compact, lightweight package," said Jordan Lee, Small Block chief engineer and program manager. "The broad torque curve and high redline of the LS7 mean fewer shifts are required for each lap, while the lightweight design improves the front-to-rear weight balance for better handling."
Chevy engineers gutted every unnecessary part they could from the Z/28 to reduce weght in a program they call "lightweighting". All told they managed to reduce the car's weight by 300 pounds compared to the ZL1.
"We looked at every subsystem for opportunities to save weight," said Al Oppenheiser, Camaro chief engineer. "Our goal was to get rid of everything that didn't make the car faster, and keep only what was required by law. For example, we wanted to eliminate the audio system completely, but we had to keep a single speaker for the seat-belt chime to meet safety requirements."
That speaker probably doesn't sound very good, and it probably wouldn't be hard to blow it out of a door panel by cranking the stereo. Fortunately the Z/28's exhaust system creates an audio oasis of its own by bypassing the mufflers during acceleration. Chevy says the straight-pipe orchestra "increases both torque and sound" from the LS7 engine.
The Z/28 doesn't look radically different than a standard Camaro, but it does a good job of looking the part of a track-ready car thanks to a full aerodynamics package that creates a considerable amount of down-force at speed. Aero wizardry includes a giant front splitter attached to an undertray that reduces lift, as well as fender flares and larger rocker panels to promote stability. In the rear, an aggressive spoiler and diffuser help keep the meaty rubbers stuck to the ground.
Pricing has yet to be announced for the Z/28, but when it goes on sale later this year, track-enthusiasts will be able to say they paid extra for a Camaro with an audio system that's one speaker away from being non-existent. To a serious car guy that's a good thing.
---
---