Mon., Feb. 9, 2009
The eyes have it…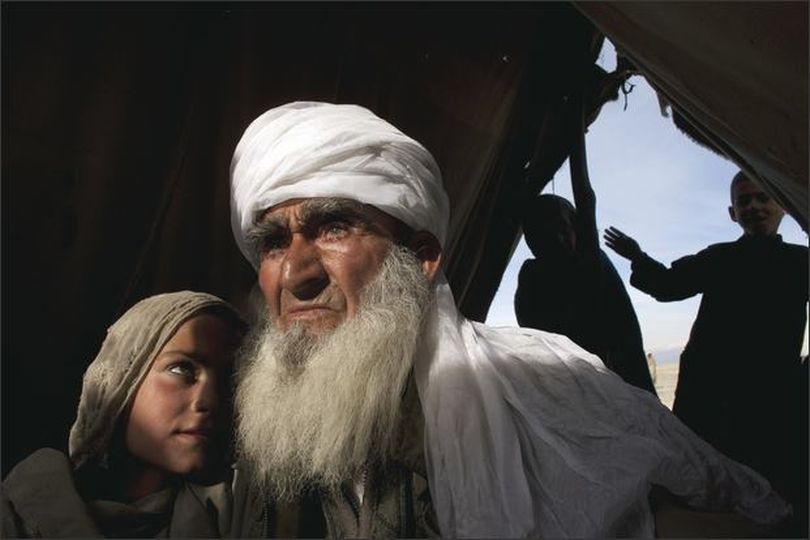 Good morning, Netizens...
In this morning's picture of the day, Sayed Abdul Karim, 80, sits with his grandaughter, Camina, 9, left, in an internally displaced camp three hours from their village in Galochi district, bombed in a U.S. military raid on Sunday in Laghman, Afghanistan. The operation drove hundreds of families out of their villages after 270 homes were destroyed and 16 civilians killed. (February 08, 2009) Getty Images
This is a fine picture.
Having a granddaughter who is approaching that most-magical age of her life, I have felt my granddaughter's eyes gazing upon me with the same reverence and trust as in this picture, and in my reverie this morning, I pondered how I would feel were I in this man's place. With her implicit trust glistening in her eyes, yet sitting in the squalor of a displaced persons camp, what could I possibly say to her except, "everything is going to be all right", all the time hoping that it would be all right.
This raises the issue of when is it all right to sit there, filled with trepidations and fears about the future, and telling the lie to your beloved granddaughter that everything is all right, everything will get better? When do you tell a beloved and innocent child the truth, that you fear things may worsen?
How can I possibly explain or justify to my granddaughter that my generation has handed her a nine trillion-plus-dollar debt? How realistic is that perhaps some day, if things continue unabated, you or I will be in this picture? The memorable words from our generation of poets and songwriters, Crosby, Stills and Nash once prophetically wrote:
And you, of tender years,
Can't know the fears that your elders grew by.
And so please help them with your youth,
They seek the truth before they can die.
Teach your parents well,
Their children's hell will slowly go by.
And feed them on your dreams,
The one they picks, the one you'll know by.

Don't you ever ask them why, if they told you, you will cry,
So just look at them and sigh and know they love you.......
There is nothing in this world or beyond comparable to the love of grandchildren, and thus I sigh at the beginning of this, yet another new week, and know love. 
Dave
---
---