Sat., Sept. 26, 2009
Body art or simply a distraction?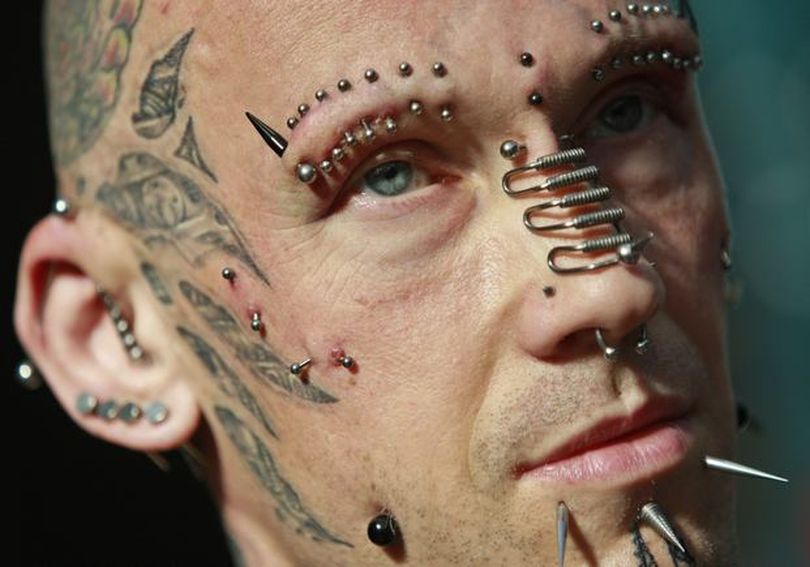 Good morning, Netizens...
This morning, we will take a bit of a walk on the "wild side", although if people object to that description, I'll probably ignore them.
In this morning's picture of the day, a man who calls himself 'Spikey Bob' poses for pictures at the International London Tattoo Convention, in east London, Friday. The convention brings together the world's best tattoo artists from the US, Australia, Canada, Japan and UK as well as piercing specialists, fashion designers and fans of skin art.
My initial question is how does this guy deal with the metal detectors at most banks, government institutions and other lofty places?
Of course, the religious conservatives will possibly point out the various Biblical references which they may say are opposed to tattoos and various other body art, such as Leviticus 19:28 where it states ""You shall not make any cuts in your body for the dead nor make any tattoo marks on yourselves: I am the LORD" and in various other Jewish scripts from the Talmud thereto.
That religious set of credos aside, you have to admit this guy never lacks for entertainment value. When he walks down the street he has syncopated jangling ringing in his ears and various other bodily parts so he can snap his fingers with the beat, if they are not otherwise encumbered by metallic arts.
If you saw this guy heading into your favorite shopping center, what would be the first thoughts that cross your mind?
Dave
---
---