Tue., June 7, 2011
Stupidity in public…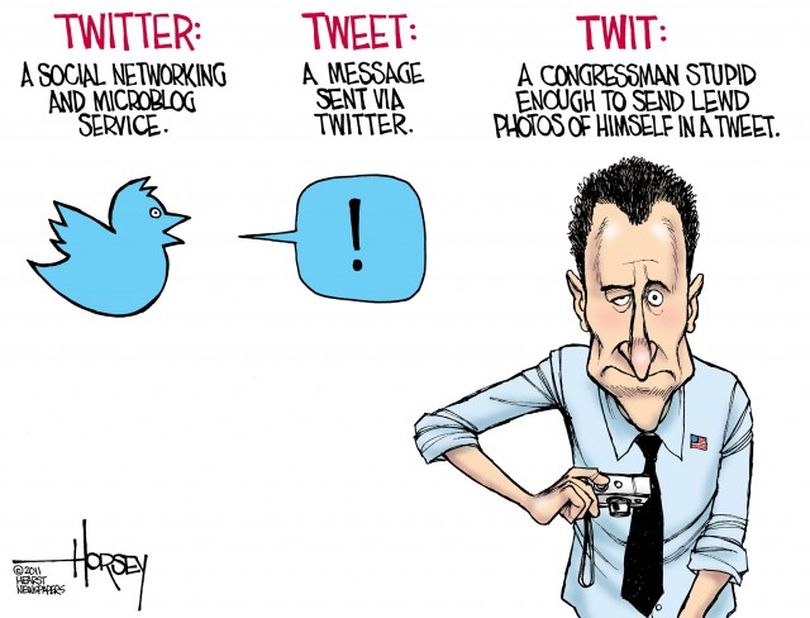 Good evening, Netizens...
I will state at the beginning of this conversation that (putting hand over my heart) I will not succumb to temptation and begin telling deplorably bad Weiner jokes, of which there are so many on the Internet the last few days. As David Horsey suggests in today's cartoon, stupidity is a non-partisan offense. It
should
be punishable, but then we would have to punish all the fine people who helped elect Weiner into office, including the voters, since they each played a role in putting him where he is today.
Just how dumb is it to post pictures of your private parts on the Internet, anyway? Regardless of whether or not you are a public figure, that should rank right up there at the top of the list of idiotic things never to do. Then, to add insult to injury, after seeing his career about to go up in flames, Anthony Weiner hit the panic button and lied to the world.
Should Weiner resign his office? Personally I think half the people we elect into any public office should resign simply because they no longer serve the electorate, the people that once believed in them and voted them into office to begin with. They need to quit their office(s) and go do something honest for a living and, as David Horsey so aptly states, it makes no difference which political party they once served: stupidity can be found in any political party.
Stupidity in public office is a sad state of affairs. Of course, your opinion may differ.
Dave
---
---