Tue., Dec. 2, 2008
Spokesman-Review story roundup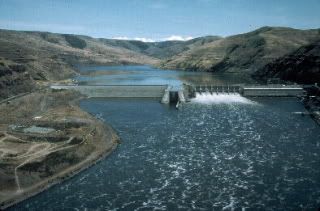 Former Oregon governor on the list for Secretary of Interior
. "Removing the four Lower Snake River dams is, at least for the Snake River salmon listed under the Endangered Species Act, the single most beneficial action we can take. If we can move beyond the symbolism of the four Snake River dams … breaching emerges as a responsible and cost-effective option." Former Oregon Gov. John Kitzhaber in 2000 to the American Fisheries Society. In this evening edition of the always thrilling "transition news," Kitzhaber is the latest possible candidate for Interior secretary in the Obama administration. As the above quote attests, Kitzhaber is well known for his support of removing the Snake River Dams, and DTE believes he has a knowledgeable understanding of natural resources. Sam Mace, Save Our Wild Salmon's Inland Northwest project director in Spokane, added in the S-R "there's other ways we can get really, true green energy that doesn't involve the extinction of salmon." Makes sense. Let's hope Kitzhaber can contribute to a new way of thinking in regards to politics and environmental issues. Other possibilities: U.S. Rep. Jay Inslee, D-Wash. (yay!) ; U.S. Rep. Mike Thompson, D-Calif.; and U.S. Rep. Raul Grijalva, D-Arizona.
More
Reshaping the shoreline
. The Spokane City Council has approved a few changes to development rules along the Spokane River and Latah Creek. One amendment is an extension of the areas where construction was previously illegal: Old rules barred development 50 or 100 feet from shorelines, now the new buffer in many locations will increase from 100 to 200 feet. (Council members Al French and Nancy McLaughlin opposed.) According to the S-R, the new rules were written in response to a 2003 state law that calls for shoreline development restrictions that result in no net loss of "ecological function." However, in a bizarre twist, another amendment lowered the recommended buffer on a 900-foot stretch of Latah Creek from 200 feet to 100 feet. The land's owner, the city's former Chief Operating Officer John Pilcher, requested the change, citing the proposed rules would hurt the development potential of the land because it's near a proposed interchange on U.S. Highway 195. (Council members Richard Rush and Steve Corker opposed).
More.
When $140M isn't enough
. The bankrupt W.R. Grace & Co. will pay $140 million to settle a class action lawsuit for its production of Zonolite attic insulation that contained asbestos, much of it mined in Libby, Montana. Full story
here
. On our old site we had written extensively about the town of Libby, Zonolite, and W. R. Grace & Co. After the jump, you can read a post we wrote in September.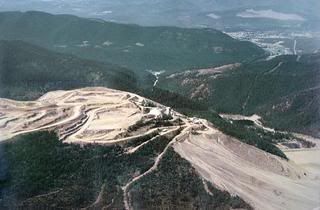 "At Zonolite Mountain"
Blink and you would've missed it. Last week, the Seattle P-I ran a story titled "U.S. claim deadline against Grace set for Oct. 31st." The company, W.R. Grace, might sound familiar to DTE readers: They exposed residents in Libby, Montana to asbestos, killing hundreds and sickening thousands from a vermiculite mine to produce Zonolite insulation. But the article pertained to the 35 million homes and businesses unsuspectingly contaminated with the cancer-causing product, once marketed as the "miracle mineral." Darrell Scott, a Spokane attorney who filed the nation's first Zonolite insulation suit on behalf of more than 100,000 homeowners in 2000, is concerned the Oct. 31st deadline set by the federal bankruptcy court will go unnoticed. "People still don't know," he said. "There are probably 120,000 to 140,000 homeowners in Washington alone with Zonolite in their homes, and most don't know it." The insulation was mined from vermiculite ore at the demonically named Zonolite Mountain near Libby and Grace processed it throughout North America (more on Canada's role later). Tests by the EPA, researchers for the Centers for Disease Control and Prevention and even Grace's own scientists showed the slightest disruption of Zonolite in walls or ceilings releases significant amounts of asbestos. (On a side note, a second substance they produced, Monocote, for fire proofing, was used to coat all of the steel beams that were used in the construction of the World Trade Center towers in New York City. With the collapse of the twin towers on September 11, 2001 large amounts of Libby asbestos was released into the lower Manhattan area, according to CARD.) The Maryland-based W.R. Grace declared bankruptcy in 2001, which ruined the efforts of Scott and other lawyers. The 150-year-old company had no other options because more than 325,000 asbestos personal-injury claims had been filed against it with more plaintiffs waiting in line. However, in Ontario, the Canadian version of a bankruptcy court proposed Grace pays $6.5 million—in Canadian, mind you—to settle all claims by Canadian homeowners, which marks the first significant civic act by against Grace since they declared bankruptcy. But half the amount would be paid to the Canadian lawyers who put the deal together. For example, there's a lawyer from Delaware who would be paid $360,000 for just turning in court papers. Here's the real kicker: 400,000 Canadian homes are possibly insulated with Zonolite. Now, if they apply for the Grace settlement, (so divide half the $6.5M by 400,000) they could end up with $8.125 each! "The lawyers are making a fortune, and those with a real need to remove this poison from their homes get nothing. How can something so outrageous be allowed to happen?" asked Raven Thundersky in the Seattle P-I. The article said the parents and three sisters of the 43-year-old woman died from cancer and asbestosis from exposure to Zonolite in the family's government-built home on a remote First Nations reservation at Poplar River, Manitoba. On our side of the border, it looks grim for plaintiffs. Scott was appointed by U.S. bankruptcy trustees to co-chair the Official Asbestos Property Damage Committee and he asked the U.S. Bankruptcy judge to let him file for Washington homeowners with Zonolite insulation, even though she said the asbestos in insulation is not harmful. However, a report issued by the Office of Inspector General of the U.S. Environmental Protection Agency said the federal government could do a better job informing Americans of the true danger posed by vermiculite and EPA brochures on insulation "are inconsistent about safety concerns." How To File A Claim To preserve a Zonolite claim against W.R. Grace, individuals and entities must file a form by Oct. 31. For instructions for filing a claim, call (877) 465-4817; visit www.graceclaims.com; or write to Claims Processing Agent, W.R. Grace & Co. Bankruptcy; P.O. Box 1620, Faribault, MN 55021-1620. "Are we going to fence off the Libby Valley and make it another Chernobyl?" Paul Peronard, manager of the EPA's work in Libby. In response to requests from its own scientists and health activists, the EPA said they would issue an emergency declaration about asbestos in Libby and to warn all homeowners about the risk of asbestos, mesothelioma and lung cancer from the exposure to Zonolite. But they never did and a year ago Sen. Max Baucus, D-Mont. demanded the EPA hand over documents explaining why a public health emergency was not declared . "I don't know a place in this country where people have been so put upon," he said. Of course, in Libby it was not just the insulation processed from Zonolite Mountain that got people sick but it was the regular sight of clouds of vermiculite that contained tiny shards of dangerous asbestos which were then inhaled by the miners and brought home to their families in their clothes and scattered in parks for forty years. 2,000 Libby residents have become sick from asbestos and attorneys say there have been up to 225 deaths. Documents prove W.R. Grace knew since 1956 that the dust was hazardous and causing asbestosis, but did not release this information to the public or the workforce . The EPA declared Libby the worst case of industrial poisoning of a whole community in American history and earlier this year, W.R. Grace had to pay the U.S. government $250 million to reimburse it for the investigation and cleanup of asbestos contamination in Libby. Check out James Hagengruber's excellent feature on Libby titled
"Trouble In The Air"
. The below clip is a preview for an intense, Emmy-nominated documentary simply titled "Libby, Montana."
---
---