Mon., Nov. 3, 2008
Another Green Monday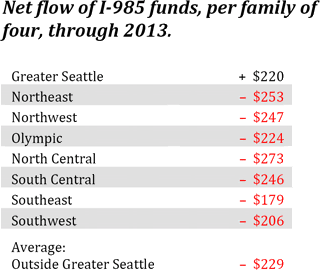 One more time...
As most of our readers already know, we take a lot of political jabs. (It's a blog, it's expression, so there.) But we make no apologies for criticizing Tim Eyman and his hopeless I-985, an initiative for single occupancy vehicles. Maybe it's because nobody would ever want to ride in a car with Eyman. Championed by those who want to drive in the transit-only lane (buses, carpool, shuttle), the initiative only benefits central Puget Sound. "We looked in detail at the flow of revenue into I-985's transportation fund, the required spending under the initiative, and the regional concentration of the congestion problems to which I-985 is directed. And whatever Mr. Eyman might hope or claim, I-985 would wind up shifting about $180 million in revenues from the rest of the state into greater Seattle," said Sightline founder Clark Williams-Derry. "Over 5 years, we expect that the average family of four outside of the Seattle area will ship about $229 in tax dollars to pay for Seattle-area road projects."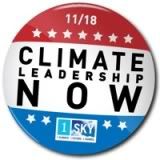 Sign up for Nov. 18: Climate Leadership Now.
From Liz Butler at 1Sky: No matter who our next president is or what the next Congress looks like after Election Day, we'll have to keep pushing our leaders for real solutions to the energy crisis and climate change. On Tuesday, November 18, join volunteers across America to welcome the President-elect and the new Congress by calling on them to make climate an immediate priority in 2009:
http://www.1sky.org/november18
We already have over one thousand volunteers signed up covering every state in the country! We have a unique opportunity after this election to make real climate solutions a top national priority. If we lay the groundwork early enough, it will be impossible for our leaders to ignore our call for bold leadership on climate.
Oh No Asarco.
The fallout from the economic disaster continues to spray bad news on Americans – and in Everett a nearly 100 year-old pollution problem is still sitting on the back burner. Asarco, a mining company responsible for about 40 contaminated sites around America, and a company who before the economic shakedown was on less than sturdy financial ground, is using its economic woes to get out of a $38 million dollar cleanup job it had already agreed to. The copper-mining monster agreed to spend the millions to remove lead, arsenic and other heavy metals in soil and groundwater near a copper smelter the company ran in Everett from 1892 to 1912. Asarco you see, as a good friend of DTE put it, "is a poster child of bad acting in the mining industry."Nearly the same scenario played out in a lead smelter mine in
East Helena Montana in 2002
and it's Asarco that has shares in the
Continental Pit
in Butte, Montana – one of a number of ill-managed contaminated mining sites in Butte. And now as our friend says, "they're about to screw Washington." Read more
HERE
.
---
---