Thu., Nov. 6, 2008
President-Elect Barack Obama - DTE's View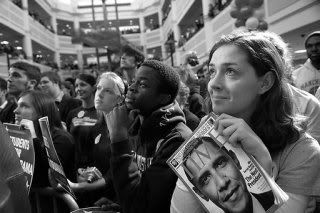 Today many of you feel something that you have never felt before – we feel it too. Speaking as two mid-twenties politically-engaged citizens, today is the first time in our electorate life that the candidate we picked actually won. But it's more than that - the tears of joy brought about my Barack Obama's historic White House bid are also tears of relief and exoneration of eight years of frustration and anguish. Democracy is alive in America. In 2000, the novelty of voting quickly wore off when we were dealt a surprisingly undemocratic blow. Then in 2004, an election that seems ages ago, we were compelled to vote for a man that we had less than strong aspirations for – he didn't fare well and since then we have all fared worse. And now here we are, November 6, 2008 and a faint shimmer of light and hope is visible at the end of the tunnel. A week before the election a Pew Research Center Poll found that 64 percent of Americans still believe in this sentence:
"As Americans we can always find ways to solve our problems and get what we want."
That number will likely rise. With the whole world watching, and for the first time this decade largely hoping with us, Barack Obama stands poised to lead America back to the world. Amidst two wars, a collapsing economy, a bleak energy future and morale as low as its been in decades – America stands poised to regain the title of a great nation, a title that hasn't fit since after World War II. But where do we go from here? No doubt things are a mess right now but part of us wants to believe that in times of great turmoil and ambiguity the concept of change is more likely to be received. A more optimistic way to look at the current climate is to believe that our dynamic political and social paradigm is ripe for change and how Barack Obama orchestrates that change will largely determine the course of not only our country but our world. Will we once again become a great nation, as we were after World War II and as we were after John F. Kennedy inspired hope – you can almost hear the chants from Grant Park, "Yes We Can!" One of the first orders of business in a Barack Obama administration will have to be determining the course for America's energy future. Michael Bloomberg, mayor of New York City, said this in the November 3 issue of NEWSWEEK,
"Oil-rich Middle Eastern governments are investing in green energy, because they understand that it will be the fuel of the future. America can either be the pioneers of green energy of the purchasers. If we are the pioneers we'll create tens of thousands of good-paying job. If we are the purchasers, we will continue transferring billions of dollars of our wealth overseas – and the high-tech jobs that go with them."
Becoming pioneers of a clean-energy revolution thus creating America's course of action against climate change is a step similar to one that we famously took before. David Suzuki, a Canadian scientist and world-renown environmental activist, so eloquently expressed this sentiment to the Sierra Club recently:
"I was beginning my senior year at Amherst College when, on October 4, 1957, the world was electrified to learn that the Soviet Union had launched Sputnik. In the ensuing months, as U.S. rockets blew up on the launch pad, the USSR began a series of space firsts--first animal, man, woman, and crew. The United States didn't moan that the Russians were too far ahead or that it would cost too much to catch up. Instead, it embarked on a race to the moon. As a foreigner, I watched in admiration as the all-out effort established NASA and ratcheted up funding for scientists, universities, and students. What was the result? The United States was the first and only nation to land people on the moon, and the world reaped the benefits of the unanticipated spin-offs: 24-hour news channels, cell phones, GPS navigation, and, of course, Tang. In 2006, U.S. scientists won every Nobel Prize in science. This all came about because five decades earlier, the United States made a commitment and threw everything at it. Now leading U.S. scientists and their institutions have warned us of the urgent need to deal with climate change. It is not the American way to complain that meeting this challenge will cost too much or destroy the economy. History shows that addressing this crisis head-on will not only reduce the risks confronting us but will also reap unanticipated benefits. The last U.S. administration failed to heed the advice of its leading scientists, leaving the challenge of climate change all the more difficult to resolve. What is needed is the determination and commitment once sparked by Sputnik. It is a daunting and exhilarating prospect for the incoming administration, and I can only hope the will to meet it will be found."
For today we celebrate fully knowing the real work is about to begin. John F. Kennedy once famously spoke, "Ask not what your country can do for you - ask what you can do for your country," and today that call to action appears to be the necessary steps to achieve our collective goals. Energy independence requires responsibility, curbing emissions requires sacrifice, and chartering a clean, green and socially responsible future requires a nation of Americans to give - an act many have never been asked for… until Tuesday night:
"This victory alone is not the change we seek. It is only the chance for us to make that change. And that cannot happen if we go back to the way things were. It can't happen without you, without a new spirit of service, a new spirit of sacrifice. So let us summon a new spirit of patriotism, of responsibility, where each of us resolves to pitch in and work harder and look after not only ourselves but each other."
– President-Elect Barack Obama. We're all in this together.
---
---