Mon., April 6, 2009
Another Green Monday
Thank goodness what happens in the City Council chambers doesn't stay in the City Council chambers or last week would have been void of several knee-slapping laughs.  Former state Rep. John Ahern and a few of his adherents spent last Monday evening in the City Council chambers expressing their concerns that the recently released Sustainability Action Plan was in fact part of a UN-influenced plot hell-bent on placing the world under one governing power.  Who knew they were so adamant in stopping us from cleaning up our Spokane River or providing our citizens with a future.  From The Inlander: "This a U.N. agenda that you people have signed on to," Gloria Clark said, explaining that the suggestions weren't locally generated at all, but handed down from on high. She pointed to the city's participation in the International Council for Local Environmental Initiatives (ICLEI), which was established by the U.N. in 1990." 
So now the only logical thing for anyone who cares about Spokane's sustainable future to do is to show up to tonight's City Council meeting at 6 p.m. in the Council Chambers at City Hall and provide a dissenting voice to Ahern and his likely (sad as that is to assume) growing number of followers.  But before you go, read the Spokane Skeptic's blog post on Ahern - you know, for a good laugh.
Return to sender. An Okanogan County father and son are subjects of both state and federal investigations for allegedly poaching a federally-protected wolf and attempting to mail the bloody pelt to Canada. The Twisp-area anti-wolf rancher and his son have been questioned and their computers searched in what is one of the most bizarre turns in the state, and regions ongoing wolf battle. A photo seized from the computer of the elder suspect shows him holding a large dead gray wolf. The case was discovered when a woman in Omak tried to mail a box which she claimed was a rug. After a FedEx agent saw what was believed to be blood leaking from the box, authorities were notified, and security camera shots of the woman's car led police to the suspect's ranch. Read more HERE. 
Mussels bound for Idaho. Idaho Representative Eric Anderson –R of Priest Lake is fighting vehemently to prevent quagga and zebra mussels from invading his state's waters with legislation that would require all boats launched in Idaho, motorized or not, to carry a $5, $10 or $20 sticker to help fund the fight. The Idaho Senate voted in favor 34-1. Here's the kicker, the mussels aren't even in Idaho. According to the Idaho Statesman,"Quagga and zebra mussels from the Baltic Sea have been spreading across the Midwest since being accidentally introduced into the Great Lakes in 1989. The mussels have not been found in Idaho, but are reported in Utah, Colorado and Nevada." The bottom line is this blanket legislation is full of holes, and being that Washington and Idaho so conveniently share recreational opportunities; this is being looked at through the wrong lenses. It's time for the bureaucrats to step back and view this as a geographic issue, not a political one. Read a dissenting view from the Idaho Statesman's Into the Outdoors blog HERE.

The E.P.A.'s most wanted. The Environmental Protection Agency has released a list of fugitives, people charged with violating environmental laws and regulations on the lam. One strange case: Albania Deleon who started a business to instruct and certify workers in the safe removal of asbestos. Her company became the biggest removal company in the state but the hundreds of people she certified never received any training whatsoever, before being sent to homes throughout the New England area. "All these crimes are driven by money," Doug Parker said, deputy director of the agency's criminal investigation division in the NYT. "When a regulatory scheme is developed, it invariably puts a cost on people. People will use criminal means to avoid compliance, either saving a lot of money or, in Ms. Deleon's case, making a lot of money." Full story HERE.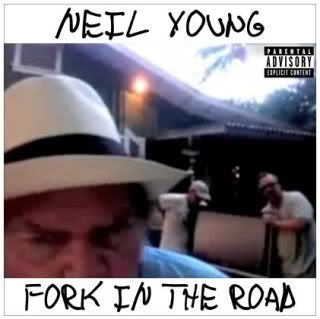 Neil Young's "Fork In The Road." After concept album rumors and bizarre videos created by Young himself, the album about his converted hybrid 1959 Lincoln Continental is streaming on myspace HERE. Key lyric: "She goes a long way on domestic green fuel, 100 miles per gallon is the Continental rule." Oh boy! The actual album will hit stores tomorrow with a mysterious Parental Advisory sticker thanks to Tipper Gore. Expect a review on Thursday.



---
---