Mon., Dec. 7, 2009, 6 a.m.
Another Green Monday

It was only a few Another Green Mondays ago when we heavily criticized President Obama for his lackadaisical approach to Copenhagen. He wouldn't show up, in effect sending a xenophobic message to world leaders who understand the urgency of climate change. Next, we heard Obama was swinging by on his way to pick up the Nobel. Now, the story's different. This time he'll appear at Copenhagen on the last day, December 18th. A White House press release stated, "based on his conversations with other leaders and the progress that has already been made to give momentum to negotiations, the President believes that continued US leadership can be most productive through his participation at the end of the Copenhagen conference on December 18th rather than on December 9th. There are still outstanding issues that must be negotiated for an agreement to be reached, but this decision reflects the President's commitment to doing all that he can to pursue a positive outcome. The United States will have representation in Copenhagen throughout the negotiating process by State Department negotiators and Cabinet officials who will highlight the great strides we have made this year towards a clean energy economy."
This is very good news. Usually, the first days are reserved for handshakes, high-fiving, and protests. The most significant moment is at the end, and it appears a deal could be brokered. Perhaps Obama will be the closer. After all, ask any stand-up comedian, it's not how you start but how you finish. But as the White House indicated, there has indeed been a shift in momentum despite skeptics foaming at the mouth while developing countries like India and China honor commitments. The whole world will have their eye on Copenhagen and we will too with a renewed sense of optimism, updating the site with the latest news.
Here are some stories you might've missed.
National conservation award given to University of Idaho grad student. Jan Schipper, a U of I graduate student recently won the William T. Hornaday Conservation Award, a national award from the American Society of Mammalogists for his "significant contribution as a student to the conservation of mammals and their habitats."  According to a release from the university, "for the last three years, he led an initiative to assess the conservation status of the world's 5,500 mammals, a program managed jointly between the Center for Applied Biodiversity Science at Conservation International and the International Union for Conservation of Nature (IUCN), which produces the IUCN Red List of Threatened Species.  Read more about Jan and his award HERE.
Clean coal is a myth.  And our energy future should be one of alternatives, not alternative ways to do coal.  That said, we understand the marketplace, and if this is the way business is going to be for awhile, at least innovation is happening at a local level.  According to the Idaho Statesman,  "Idaho environmental regulators issued a permit Monday to a company that plans to operate a clean-coal gasification fertilizer plant near American Falls. The permit limits carbon dioxide emissions under an agreement between the state, Southeast Idaho Energy, the Sierra Club and Idaho Conservation League. It is the first plant in the state and the nation with enforceable greenhouse gas emission limits and one of the first clean coal plants with a permit in the nation."  Read more HERE. 

Skepticism revival before Copenhagen. The New York Times had a good weekend. They did a fine job on reporting what was going on in the White House for the run-up to the Afghanistan troop escalation, followed by a story tracing climate politics and scientific debates. "There will remain after the dust settles in this controversy a very strong scientific consensus on key characteristics of the problem," John Holdren, President Obama's science adviser. "Global climate is changing in highly unusual ways compared to long experienced and expected natural variations." Consensus is every climate skeptics favorite word however and, as the NYT puts it, the case for human-driven warming is clearer today then it was a decade ago. Full story HERE.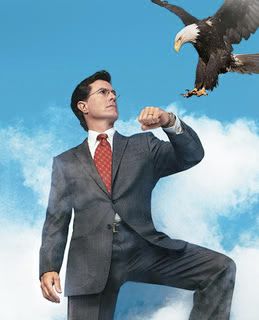 The eagle has landed. Stephen Colbert belongs in Coeur d' Alene: It's that time of the year when they experience an influx of bald eagles, hungry for spawning kokanee salmon. The U.S. Bureau of Land Management staffers counted 66 bald eagles in the trees around Wolf Lodge Bay during a weekly survey on Wednesday. Read Rich Landers' report HERE.

---
---