Wed., Jan. 7, 2009
Crude awakening
How much do you know about Canada?

They're our nice neighbors to the north yet the odds of Americans knowing who they re-elected in October as Prime Minister are unlikely, while Canadians cheered Barack Obama from the sidelines. But the more you learn about a certain controversial energy issue, the more convoluted its environmental policies become, tearing down assumptions of Canada as a progressive refuge.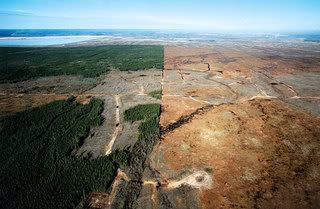 Photo courtesy of onearth.org

So let's go back to the Prime Minister question. If you answered Stephen Harper (or "Steve" as only Bush affectionately calls him) congratulations. He won with just 37 percent of the popular vote as 63% of Canadians chose four parties who all ran on platforms implementing climate change action. For his part, Harper has ignored the Kyoto Protocol since support stems from oil companies reaping the huge profits from what's in the sands of Alberta. Echoing a widespread sentiment, Linda McQuaig, wrote in this month's issue of Adbusters, "Canada is not just out of sync with much of the world. In many ways, it is out of sync with Canadians." 
But the sands of Alberta? How the heck are Americans supposed to know or care about that?

That is the place where oil seeps out of the earth. You can smell it. The goop naturally spills into waterways. The cosmic open pit mines produce so much oil, they've made Canada the top foreign supplier to America, and the second-largest storehouse in the world, next to Saudia Arabia. Reserves in Alberta alone hold 173 billion barrels, 96 percent of Canada's oil exports. In the nearby town of Fort McMurray, their population has doubled the last decade with many workers living in temporary camps. A friend of DTE, who made the 900 mile trek north from Spokane (roughly equidistant to San Francisco) two summers ago, described it as a "Wild West boomtown like 'Deadwood,'" ridden with lawlessness that comes along with opportunity.

That opportunity comes at a profound ecological cost. The Seattle Times had an excellent feature called "Canada's oil-sands boom creates vast riches and a dirty footprint," which explained how the oil is low quality, and the process (watch here) of extracting from Alberta's oil sands to meet refineries needs produces as much carbon dioxide as 6 million cars annually. (Three times conventional drilling.) Those emission numbers still belie the full damage when you imagine what the toxicity of open pit mining itself has done to the ecosystem. So far, nobody's accounted for the pollution but, judging by the photos, multiply the cleanup in Butte. Harper described it as "an enterprise of epic proportions, akin to the building of the pyramids or China's Great Wall. Only bigger."
 He looks the other way as the country turns in billions of dollars from exporting literally the dirtiest energy source. In a twist to Canada's political inaction, American environmental groups like the Hudson Institute want to put pressure for a discontinuation of these harmful practices, and clean energy policymakers hope for Obama's involvement. But for now, Canada has the leading example of profit trumping environmental responsibility today, and there's no end in sight.
---
---