Thu., Jan. 15, 2009
Building something out of nothing
New construction leaves a big carbon footprint, and after reading "Unsustainable Seattle," we think it makes perfect sense for environmentalists and historic preservationists to form an alliance in creating a sustainable urban landscape for Spokane. And if there's a good thing about a bad economy, preservation often becomes easier as buy new growth models are disrupted.

In that essay, Donovan D. Rypkema, an economic development consultant from Washington, D.C., made the case for surpisingly reticent parties to integrate their efforts:

When you rehabilitate a historic building, you are reducing waste generation. When you reuse a historic building, you are increasing recycling. In fact, historic preservation is the ultimate in recycling.

At most perhaps 10% of what the environmental movement does advances the cause of historic preservation. But 100% of what the preservation movement does advances the cause of the environment.
 You cannot have sustainable development without a major role of historic preservation, period. And it's about time we preservationists start hammering at that until it is broadly understood.

Visitors frequently note it's amazing how many cool old buildings still stand. To view numerous examples and background information around town, take a tour of the Historic Spokane Office. With potential tax breaks for some landmark designations and a stronger group backing such protection, the buildings could become a new example of energy efficiency while maintaining their heritage.

But the local worst case scenario must be mentioned: The old Rookery Block downtown, now another boring and wasteful parking lot.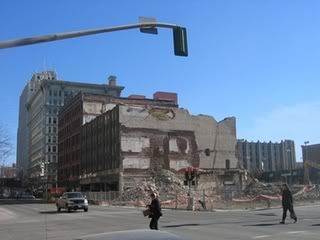 Image courtesy of MetroSpokane.

What's a local building you would like to see preserved, or even better, retrofitted green?

The first suggestion was the Jensen Byrd Building, constructed in 1906. This warehouse could be a wondrous combination of historic preservation incentives and green building subsidies. It's a simple concept: Fixing the old, rather than buying new.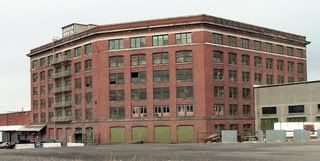 Image courtesy of 2006 Washington Trust Most Endangered Historic Properties.
---
---