Fri., March 13, 2009
Cascadia sustainability report card
We're geeking out on the Cascadia Scorecard from the Sightline Institute, a comprehensive Northwest sustainability report that is frequently updated with graphics and shocking figures.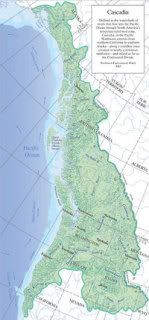 For the uninitiated, the site studies the region known as "Cascadia," merely as a transnational cooperative identity because of ecological similarities rather than advocating a new sovereign state. (That would be fun though because of the economy, right?) The scorecard looks at six areas: Health, population, economy, sprawl, wildlife, energy, and pollution.

Let's look at the worst trend: Energy. Oregon, Idaho, and Washington spent nearly $30 billion for 2008 on imported oil, coal, and natural gas, more than four times our energy spending in just a decade. Scary. That's rounded to $2,500 per person in the region which upon first glance seems unfathomable but remember the key is we're buying from somewhere else, straining our local economy, and spending it on gas for homes, business, power plants, and transportation.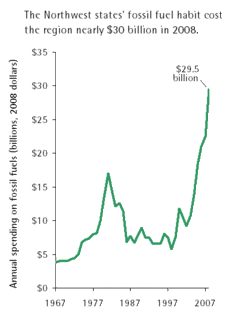 Washington: $16.6 Billion. Oregon: $9.4 Billion. Idaho: $3.6 Billion.

But the study demonstrates areas where progress is made and presents solutions like a cap-and-trade. Ultimately, the goal of the report card is to achieve "long and healthy lives, shared economic prosperity, and a legacy of thriving nature" in the Northwest. Can't argue with that.

scorecard.sightline.org

---
---