Tue., Nov. 10, 2009
Tuesday Video I
The story of the $27 billion lawsuit against the Chevron Corporation is now featured in a documentary titled "Crude."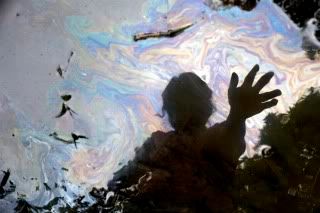 (Film still from "Crude.")

Dubbed the "Amazon Chernobyl," plaintiffs of the lawsuit are 30,000 Ecuadorians living in the Amazonian rainforest, who claim their lives irrevocably changed from the oil industry. It's an intense story about much more though: Global politics, an intricate legal battle, and an indigenous culture that has almost vanished. Watch the trailer HERE.

Closer to home, check the similar legal cases of environmental catastrophes like Libby and Hanford, both the subject of low-budget and well-made documentaries--- similar because the defendants denied any wrongdoing and stopped at nothing to make sure they never saw a courtroom while the toxicity caused cancer.
---
---