Mon., Oct. 26, 2009, 6 a.m.
Another Green Monday: The Climate Change Edition
Climate change: True or false?

Tis' the question of the season and one we stake our lives on.


A disturbing new survey said the number of American citizens who believe climate change is related to human caused pollution is at its lowest in three years, 57 percent, down from 77 percent when "An Inconvenient Truth" was released. Climate professor Andrew Weaver blamed it on "a combination of poor communication by scientists, a lousy summer in the Eastern United States, people mixing up weather and climate and a full-court press by public relations firms and lobby groups trying to instill a sense of uncertainty and confusion in the public."

We caught some of that confusion all week. More at The Spovangelist. After reading a list of the eight most dangerous climate deniers. And during the Yes Men publicity stunt which was aimed at the U.S. Chamber of Commerce's aversion to science-based climate policy. James Hoggan, author of "Climate Cover-Up: The Crusade to Deny Global Warming," told Amy Goodman, "The PR stunt wasn't pulled off by the Yes Men; the PR stunt is basically being pulled off by the U.S. Chamber of Commerce, and it's been going on for decades."

AT&T and Toyota helped fund a $100 million campaign by the U.S. Chamber of Commerce to kill clean energy and health care in Congress. Oil, gas and coal interests spend $300,000 a day lobbying the government and will step it up as climate legislation is drafted and Copenhagen approaches. It's easy to feel bogged down under the weight of their crude logic.

A widespread call to environmental action couldn't have come soon enough.  

Saturday at noon saw a group in Riverfront Park take part in 350. Around the world, the day was a success: 181 countries came together for 5,200 events. Again, this was an international event asking leaders to lower the CO2 parts per million to 350 (basically equivalent to 1990 levels, already a Washington state goal) and pass policies that are grounded in the overwhelming science.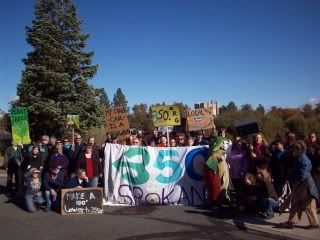 Afterward, participants marched to the Community Building, past an under construction, energy efficient Co-Op and the neighboring Platinum-LEED certified Saranac for a presentation on climate change. Good to see a few in Spokane represented reality. Follow those instincts, your commitment and idealism, unselfishness and intelligent discern. We need to make certain our leaders know 350 is an attainable goal, economically too. The difficulty is the 43 percent of Americans convinced it's a hoax, sadly turning climate change into one of the most contested issues of our time, while the planet says otherwise and will continue to do so.

 Here are some climate related stories after the jump.
University of Montana launches climate change degree program.  If you're lucky enough in college, you get a great tip from an older student or a friend (or there's probably an app for it) about certain professors, advisers or directors you should or shouldn't involve yourself with.  For some students in Missoula, a simple Google search about Steve Running will tell you all you need to know - Nobel Prize winner for his work serving on the board of the Intergovernmental Panel on Climate Change.  Running is the director of the university's Climate Change Studies Program, a new minor degree program that opened up this year.  Read more about it HERE.
Clean energy creating an economic race for the prize.  "If Congress fails to move a strong energy and climate bill, America's economy will fossilize while the world speeds ahead toward a more efficient energy system."  Very strong words from a brilliantly written editorial in The Seattle Times last week about the United States working on building a clean-energy economy - but are we working fast enough?  Or smart enough?  Will our competitors blow by us?  Read more HERE. 

Obama breaks with U.S. Chamber Of Commerce. Speak of the devil. This represents a dramatic shift from the past: The White House is attempting to bypass the country's most powerful business organization in an effort to build its own independent pipeline. From the AP: "In recent weeks, President Barack Obama, his energy secretary and one of his most senior advisers have begun criticizing the chamber publicly, casting it as a profligate lobbying organization at odds with its members in opposing the administration on issues including consumer protection and climate change." MORE.

Who says economy and environment do not mix? The Climate Corps, a group of 26 MBA students had a mission: Green up corporate operations to save money and cut carbon emissions. Their energy efficiency measures will collectively save an estimated $54 million at 22 companies (and one university), including eBay, Dell and Sony Pictures Entertainment which translates into 100,000 metric tons of greenhouse gases avoided annually. HERE.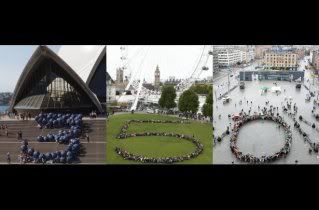 Once again, witness the wonder of 350.org and the Flickr photo gallery.



---
---