Thu., Dec. 30, 2010
Spokane Riverkeeper looks back and plans for 2011
This was a big year for my good friend Bart Mihailovich. We co-founded the Down To Earth blog in 2007 and this summer he made the announcement to step away and focus his energies as the Spokane Riverkeeper. In a short-timespan, he's done an excellent job of outreach with his blog, The Living River. Check his recap of 2010 here.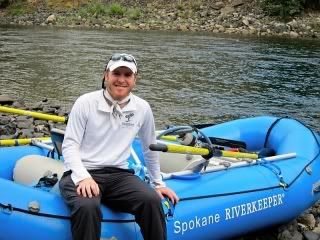 Thinking ahead about 2011, the Spokane Riverkeeper will:

-Be a tireless advocate for the health and protection of the Spokane Valley- Rathdrum Prairie aquifer – our sole source aquifer that provides safe and clean drinking water to our region.

-Continue to monitor wastewater discharge permits for the Spokane River and its tributaries, making sure water quality standards are being met and dischargers are being held accountable for their actions.


-Fight for stricter stormwater permits for our region to help tackle urban stormwater runoff, one of the largest sources of water pollution in the Spokane River watershed.

Strategically work through the political and legislative process to ensure the needs of the Spokane River watershed are being met.

Work with a coalition of Spokane River users and conservation groups to increase responsible recreation opportunities for our community, to enhance our river's image and to create a culture of conservation for the Spokane River.

Thank you Bart for all of your great work in being an advocate for clean water in the Inland Northwest and I look forward to floating the river with you in 2011!
---
---