Fri., Jan. 8, 2010
Recycling bliss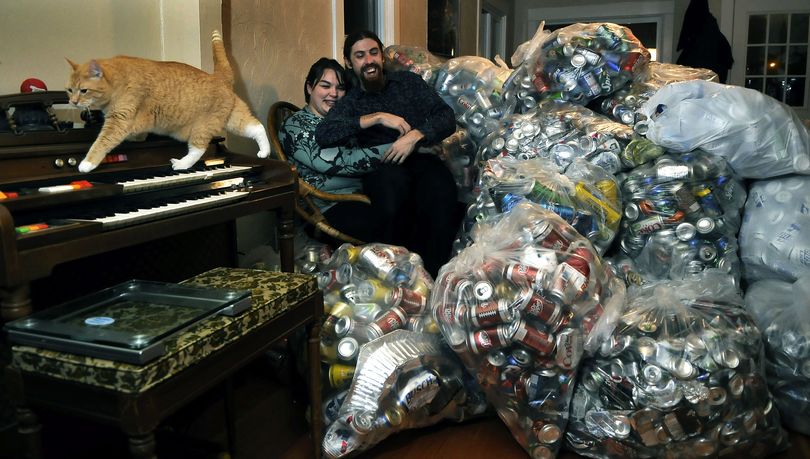 By now you've all heard of the Spokane couple who are collecting aluminum cans to recycle to help pay for their wedding.  And if you haven't, you most certainly will soon as this story is set to really go national this morning as Andrea Parrish and Peter Geyer will be featured on CBS's the Early Show. 
As your go-to source for all things green and recycling, we have to apologize for dropping the ball on this story.  We've had it in our quiver for a few weeks now, but for reasons unknown, have yet to write about it.  Lesson learned in the age of the internet.  But who didn't see this story blowing up?  This sort of story is ripe for the picking, and you know what, for a change it's nice that Spokane has a quirky story that doesn't involve criminals, cats, ducks, or snow.  So while there's not much more that we can say about this that hasn't been said by Doug Clark at the Spokesman, KXLY, the Offbeat Bride, Personal Money Store (yeah, who knew they were a source), and the couple themselves, we want to call attention to the recycling itself. 
The couple plans to recycle 4000,000 aluminum cans - about 5 tons of aluminum.  By recycling 5 tons of cans, they will be saving about 50 tons of carbon emissions – enough to offset 5 years of their emissions plus extra for the impact of the wedding itself.  Thanks to the couple's thoughtful research into their actions we know this about the 50 tons of carbon emissions they will be saving if they reach their goal: via the FAQ page on their site.
"The per capita carbon footprint of each resident of the USA is approximately 19 tons of carbon each year.  Which means if Pete and I have an "average" carbon footprint, we'll be offsetting an entire year of our carbon, plus some. I ran our stats through two separate carbon footprint calculators, and came up with a combined footprint of about 8 tons for the both of us each year. We grow a lot of our own vegetables, Pete rides public transportation almost exclusively, I'm going to be working from home, almost entirely eliminating my commute – we're not perfect by any means (I'm writing this in our office with 3 running computers and 4 monitors, after all) but we do try to do what we can.

The result of all this math? By recycling 5 tons of aluminum to pay for our wedding, we will be offsetting our own carbon emissions for a few years, but have enough left over to "pay for" the emissions that our wedding will create (which we are also trying to reduce with steps like having the wedding and reception in one place.) I think that's rather awesome!"
And we think it's rather awesome too!  If you'd like to find out ways to help - be sure to visit the Wedding Cans site for all the information you need.  And if your'e on Twitter, be sure to follow @WeddingCans - it's been fun to watch this project project

---
---