Mon., Jan. 11, 2010
Another Green Monday
Welcome to the real-life Avatar. Or as we like to call it: Alberta.

The cosmic open pit mines up north produce vast quantities of oil from their tar sands. In fact, they've made Canada the top foreign supplier to America, and the second-largest storehouse in the world, next to Saudia Arabia. Reserves in Alberta alone hold 173 billion barrels, 96 percent of Canada's oil exports. In the nearby town of Fort McMurray, their population has doubled the last decade with many workers living in temporary camps. A friend of DTE, who made the 900 mile trek north from Spokane (roughly equidistant to San Francisco) described it as a "Wild West boomtown like 'Deadwood,'" ridden with lawlessness that comes along with opportunity.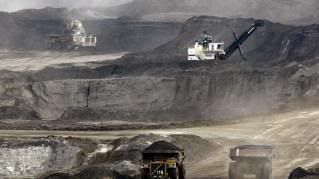 That opportunity comes at a profound ecological cost. Two years ago, The Seattle Times had an excellent feature called "Canada's oil-sands boom creates vast riches and a dirty footprint," which explained how the oil is low quality, and the process (watch here) of extracting from Alberta's oil sands to meet refineries needs produces as much carbon dioxide as 6 million cars annually. (Three times conventional drilling.) Those emission numbers still belie the full damage when you imagine what the toxicity of open pit mining itself has done to the ecosystem where green wilderness has turned to bubbling black goop.

Prime Minister Stephen Harper described it as "an enterprise of epic proportions, akin to the building of the pyramids or China's Great Wall. Only bigger."

There's no reverse to the damage caused. Ruthless extractions on this scale---like the mountaintop coal removal which we'll be posting on later in this week---make the blue natives in James Cameron's hit film, who believe "all energy is only borrowed," seem even more quaint.

After the jump are some stories you might've missed…
Federal agencies to think about climate change first?  It was reported by the Los Angeles Times recently that the Obama administration is set to order all federal agencies to evaluate any major actions they take, such as building highways or logging national forests, to determine how they would contribute to and be affected by climate change.  "People will think longer and harder and smarter about what they build when they understand that the environment around them is changing," said David Bookbinder, chief climate counsel for the Sierra Club.  And of course "Climate Enemy #1" Senator James Inhofe (R-Ok) weighed in saying, "Requiring analysis of climate change impacts during the NEPA process . . . will slow our economic recovery while providing no meaningful environmental benefits."  DTE wonders what this evaluation process will look like and what sort of regulations are set up to ensure minimal impact.  We'll keep our eye on this issue.  Read more HERE. 
EPA's new smog standard proposal.  We may not be as bad as Los Angeles, but we're not out of the smog.  Late last week the Obama administration announced that it was considering new limits on smog - limits that would even make it tough for cities far away from congested highways and multi-million people factory towns to comply.  According to the AP, "more than 300 counties -- mainly in southern California, the Northeast and Gulf Coast -- already violate the current, looser requirements adopted two years ago by the Bush administration and will find it even harder to reduce smog-forming pollution enough to comply with the law."  Just anohter clean-up job following eight lagging years under W.  Read more HERE. 
---
---