Wed., Jan. 20, 2010
Tango in Detroit
*Disclaimer, we apologize for having to link to the video of Jay Leno below.  We're with Coco.

Rocking on Electric Avenue at the Detroit Auto Show a few weeks back, Spokane's very own Tango electric car - a "chick magnet" according to inventor Rick Woodbury - drew plenty of attention and definately held its own against the big boys of Ford, GM, Toyota, and Honda.  So are electric cars the future?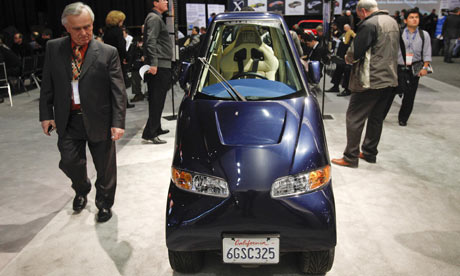 Oh wait, we've heard that before.  And so has everybody else. Leading many to report from Detroit that despite that being the mantra for the better part of a decade, experts feel that it is hard to find a true groundswell of enthusiasm among consumers.  While this year's Detroit Auto Show wasn't as melancholy as last years, economic disperity was still the scene.  "When people begin to look to do more with less, they became less concerned with the environment and more worried about trying to balance the budget," Anthony Pratt, a PricewaterhouseCoopers analyst told the Guardian last week. Read more about the small, hybrid, and electric cars that rocked Detroit from Grist HERE and from the Guardian HERE. 

* Photograph: Mark Blinch/Reuters.  And what's up with the California plate Rick?
If the above post got you excited about trade shows, check out Huffington Post's photo slideshow of one of the top trends at this year's Consumer Electronics Show - green tech.  HuffPo picked out nine of the best green products from CES 2010 - check them out HERE.
---
---