Fri., March 19, 2010
USDOT supports Complete Streets
Great news for Complete Streets: Secretary of Transportation Ray LaHood issued a policy statement calling for pedestrian and bicyclist transportation projects that also focus more on transit riders and people of all ages and disabilities. "This is end of favoring motorized transportation at the expense of non-motorized," said LaHood in his blog.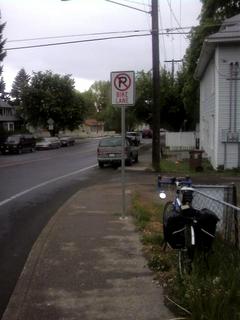 Photo courtesy of spokane.mybikelane.com.

We just want to remind readers Complete Streets includes drivers too - everybody wins. (Except when a vehicle parks in a bike lane, partly on the sidewalk, as indicated in the photo of Sherman St.) The statement mentions what agencies of all sizes can do for implementation:

---Consider walking and bicycling as equals with other transportation modes;
---Ensure convenient choices for people of all ages and abilities;
---Go beyond minimum design standards;
---Integrate bicycle and pedestrian accommodation on new, rehabilitated, and limited-access bridges;

---Collect data on walking and biking trips;
---Set a mode share target for walking and bicycling and track them over time;
---Maintain sidewalks and shared-use paths the same way roadways are maintained, especially during snowy weather; and
---Improve non-motorized facilities during maintenance projects.

Read policy statement HERE.
---
---