Fri., Oct. 1, 2010
Cool new bike racks on East Sprague
Don't be fooled. This is not a Tim Note endorsement.

Ta-da! Below is one of the new bike racks on East Sprague. Dig the design. They were purchased by the East Sprague Business Alliance, who are working to improve the neighborhood, recognizing it as the Spokane International District. There was definitely a need with increased bike traffic to the Pedals2People shop location and no racks prior. Not to mention One World Cafe, The Checkerboard, Flying Pig, Strong Solutions, Vien Dong and all the other awesome things happening here.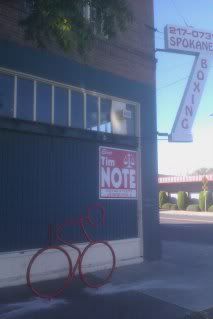 Photo by John Speare from "East Sprague got racked" on Cycling Spokane. Go here for larger view.

---
---