Wed., Oct. 13, 2010
Boomtown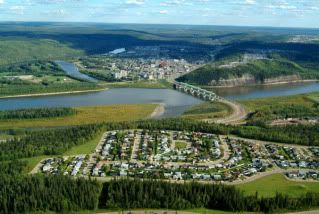 Welcome to Fort McMurray, Alberta. In the last fifteen years, they've more than tripled in size as global energy companies descend on the largest oil reserve in the world outside of Saudi Arabia.

Recently, I posted the trailer for Petroplis: Aerial Perspectives On The Alberta Tar Sands and this week Grist's Jonathan Hiskes is on the ground, exploring this bizarre, modern-day example of a resource driven boomtown:

In a few hours, I'll join conservationists from the group ForestEthics for a helicopter tour of the tar sands, one of the largest industrial excavations in the world, and by any measure an environmental catastrophe. The entire oil deposit that could be mined or drilled here is the size of North Carolina. I'm eager to see that first-hand. But I'm also interested in the town of Fort McMurray itself. What happens when a community grows from 34,000 to more than 100,000 within 15 years? How does a town function (if it does function) when the vast majority of residents come from elsewhere and don't intend to stay for long?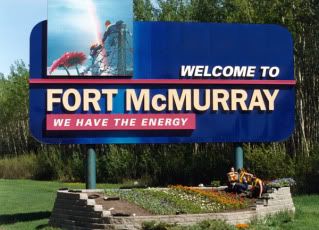 After just a few hours here, I've spoken to taxi drivers from Somalia and Ethiopia, an equipment operator and a bartender from Nova Scotia, and hotel workers from the Philippines and Labrador. They've come to this remote place for the money. You hear talk of drivers pulling $140,000 for six months' worth of long shifts, of safety technicians earning $200,000, of McDonald's workers making $20 an hour. The cost of housing says plenty about the high demand for labor. One worker pays $1,900 a month to rent a single room -- about the going rate. Another bought a trailer home for $400,000 four years ago and figures he can pay it off in another five or six years. Subdivisions and apartment blocks rise up along the town's busy ring road, and many workers for the big oil companies like Syncrude and Suncor don't even need private housing; they stay in camps of stacked trailers at the work sites. I saw a middle-aged man sleeping in a parked Mercedes with British Columbia plates.

Read his full report HERE. That opportunity comes at a profound ecological cost.
Two years ago, The Seattle Times had an excellent feature called "Canada's oil-sands boom creates vast riches and a dirty footprint," which explained how the oil is low quality, and the process (watch here) of extracting from Alberta's oil sands to meet refineries needs produces as much carbon dioxide as 6 million cars annually. (Three times conventional drilling.)By 2015, the tar sands could emit more greenhouse gases than Denmark.

Those emission numbers still belie the full damage when you imagine what the toxicity of open pit mining itself has done to the ecosystem where green wilderness has turned to bubbling black goop and massive blackened moonscapes.

The mind reels a the photos. Some reap the benefits. Prime Minister Stephen Harper described it as "an enterprise of epic proportions, akin to the building of the pyramids or China's Great Wall. Only bigger."




Image courtesy of climatechange.foreignpolicyblogs.com.

The planet is littered with ghosts towns that depended on a finite resource but for now, new fortunte seekers continue to travel north to join the last grand oil rush. How much bigger can it get? That depends on our taste for oil.
---
---