Fri., Dec. 16, 2011
Keystone XL: "The pipeline that won't die"
The Keystone XL pipeline isn't going away. After President Obama announced a delay in a final decision on the tar-sands pipeline, there was a Republican shift to speed up that process. But now it's at the point where they are forcing an approval of the project. How do you ask? By attaching a pipeline approval to a bill that is very important to President Obama: Payroll tax breaks.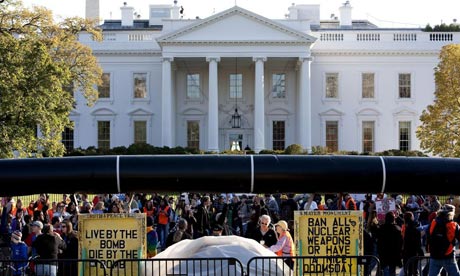 Now, I like payroll tax breaks. They help business hire new workers because social security and Medicaid taxes are reduced. But they have nothing to do with tar sands, really. The House is basically using it as a bargaining tool, thus taking what he wants- and what the economy needs - hostage.
The wind is now to the backs of TransCanada, builders of the pipeline, and they announced an extension to Houston. If you read this article in the Spokesman-Review, Montana just gave the company the permits it needs to build the pipeline in their state.
Sweet!
Check this report from Rolling Stone:

The zombie pipeline lives!
You might think that the Obama administration's decision last month to delay the construction of the $7 billion Keystone XL pipeline pending further review would have put an end to Big Oil's pipeline dreams.
After all, the whole approval process, which dragged on for three years, was a textbook example of corrupt energy politics and shoddy science working in the service of Big Oil. The U.S. State Department, which had final say in the pipeline's approval, wisely and deftly put the pipeline on ice for at least a year. But you don't kill off Big Oil's pet project that easily.
Last week, Keystone re-emerged as a bargaining chip in end-of-the-year negotiations over extending the payroll tax break for 160 million U.S. workers, which is set to expire Dec. 31. House Majority leader John Boehner has attached a "project rider" to the tax bill, essentially trying to force Obama – and Senate Democrats – to approve the pipeline as a price for passing the tax-relief bill.
Boehner and House Republicans are playing up the Keystone policy rider as a jobs project, suggesting that the Obama administration failed to approve last month it because the president is beholden to crazy enviros. A vote on the bill could come as early as today.
Stay tuned.

---
---