Wed., Dec. 4, 2013
Spokane River Forum pushes forward Interactive Waste Directory website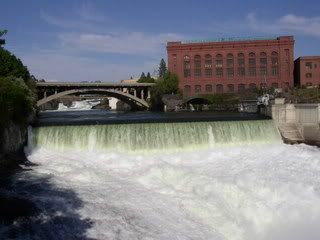 Good news from Spokane River Forum: Thanks to a public participation grant from the Department of Ecology, they've begun work on a "one-stop-shop" of information and resources for businesses and individuals disposing of hazardous and other types of waste.

The Spokane County Interactive Waste Directory website will feature a searchable database of over 200 waste types, 150 vendors, and 30 assistance providers. It will also include general education pages and regulatory information. It builds on the Forum's EnviroStars program, a collaborative effort of nine agencies working with small businesses to properly manage and dispose of hazardous waste.
The directory aims to provide businesses and residents with the tools to ensure wastes are properly managed and disposed of, rather than left to seep into our river and aquifer.

Many wastes, such as fluorescent lights, engine oil, and batteries, contain toxic properties that require special treatment. In Spokane this is of particular consequence as our "sole source" drinking supply—the Spokane Valley-Rathdrum Prairie Aquifer—lies directly beneath our feet.

A painter cleaning his brushes from an outside hose, a gardener putting the wrong pesticide in the dirt, a mechanic letting oil spill on the driveway, or a dentist removing amalgam fillings containing mercury: these are all examples of daily actions that can affect our water.

"Many waste generators either don't know the consequences or don't know of a feasible alternative. Information and resources are scattered across municipalities, state agencies, and private disposal companies," said Tonilee Hanson, who directs the EnviroStars program for the Spokane River Forum.

With this website, making the right choice and making the easy choice will be the same thing. Using the database search engine, visitors will only be a couple clicks away from knowing how to properly treat and dispose their waste. They will also be given tips for using "green alternatives" to replace hazardous wastes.

Amassing the database and creating a user-friendly interface will be a collaborative effort. As the project moves forward, the Spokane River Forum is working with an advisory group of government, business, and non-profit leaders to develop and promote the website.
---
---