Thu., Sept. 4, 2014
How to harvest tomatoes all year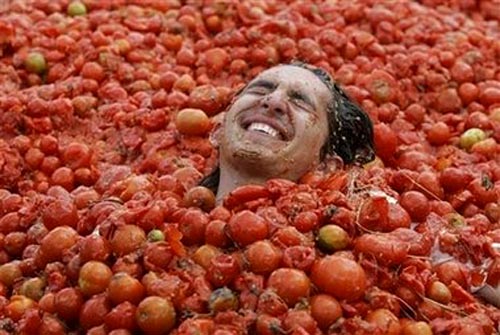 What up harvest time? It's getting colder at nights and I know it won't be too long before I have to throw a tarp over some of my tomatoes. If you're feeling overwhelmed, Treehugger has five ways to take advantage of this fruit (even during the coldest days of winter):
1. Slow Roasted Tomato Sauce
Tomato sauce is a no-brainer way to use up tomatoes, and this recipe calls for just a few simple ingredients -- 5 pounds of overripe Romas, garlic, salt, basil, thyme, and olive oil -- and basic technique: Jerry roasted his quartered tomatoes at 175 degrees overnight.
The National Center for Home Food Preservation details the procedure for preserving tomato sauce, but you can also just pop the sauce in the freezer (try putting it in airtight bags on cookie sheets to freeze it in a flat, space-saving shape).
2. Whole or Halved Tomatoes Packed in Water
Not sure you'll want to use those tomatoes as sauce? The National Center for Home Food Preservation can also tell you how to save them as whole or half fruits packed in water (or tomato juice).
You'll start by dipping the tomatoes in boiling water until the skins break open -- which should take less than a minute -- and removing the skins and cores and adding lemon juice and salt to the jarred tomatoes. Then you can either follow the raw pack or hot pack directions, depending on how you plan to use them.
For the rest of the tips - including sun dried tomatoes, yellow tomato and basil jam, a special kind of ketchup - go HERE.
---
---