Mon., Aug. 8, 2011
Cherries on Greenbluff and Canning at Sun People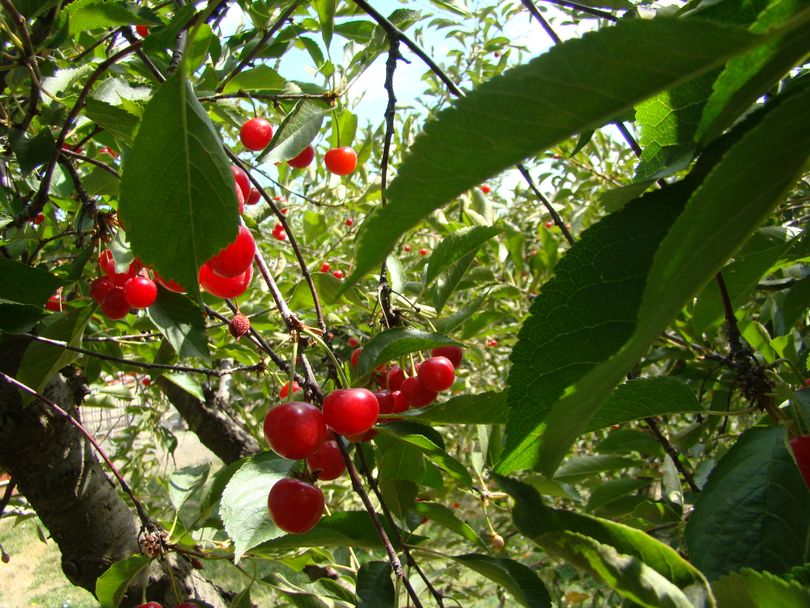 Last Friday afternoon, a good friend, her son, and I took our annual cherry-picking trip up to Greenbluff. There are several great cherry orchards up on the bluff. The sour (or pie) cherry trees at High Country are some of our favorites, and this year we picked both sour and sweet cherries in their orchards. We have also enjoyed the cherries at Cherry Hill and Pit Stop in the past--there are many orchards to choose from.
It is a GREAT year for cherries on Greenbluff. They are late, but ripe and tasty. To find out what is ripe and which orchards are open for picking, check the Greenbluff Growers' Fresh on the Bluff page (and maybe even call the orchard) before you head up.
I came home from about 2 hours of picking with 10 pounds of sour cherries and 8 pounds of sweet cherries. After a weekend of pitting, cooking, and canning, I think I'm set for the season (but I reserve the right to change my mind).
Homemade Maraschino cherries? Check. Cocktail cherries? Check. Sour Cherry Jam? Check. Cherry Conserve with candied citrus, currants, and spices? Check. Sour Cherry Syrup? Check. Sour Cherries frozen for pie filling? Check.
Whew.
For those interested in canning and food preservation, Sun People Dry Goods, at Browne and 2nd, is hosting a Canning 101 open house this Thursday (August 11) from 3 – 6. Several local, master preservers will be on hand demonstrating preserving practices and answering questions. The workshop is free to all with no preregistration required, and Sun People also has free parking for customers.
Sun People is working on expanding their canning and preserving supplies, and I have noticed an increase of merchandise in their Slow Food section over the last few months. It's nice to see a local business embracing canning so enthusiastically.
(They also carry cherry pitters which can be difficult to find when you've got 18 pounds of cherries in your dining room).

---
---