Sat., Aug. 13, 2011
Preserving Cherries (with booze)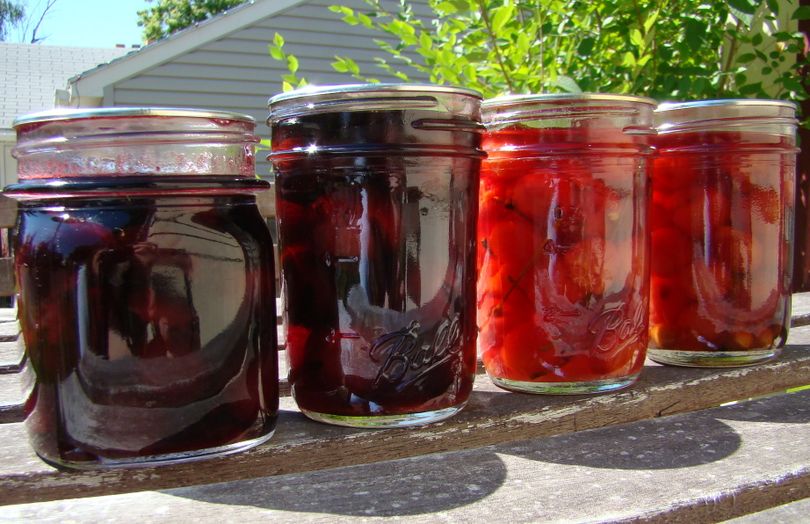 I meant to post this a few days ago, but a wedding snafu (we lost our caterer because her business was closed down by the IRS--good times!) became a priority. But! Spokane has a great big heart, and we're on our way to finding a great replacement. I will likely post about this soon.
Back to the topic at hand...
This summer I'm on a mission to find the best cocktail cherry known to man. I've never been a fan of the maraschino cherries you can find at the store--too syrupy sweet and flavorless for me. I do love a good Shirley Temple, but have always felt disappointed by the cherry at the bottom of the glass, no matter how much I want to enjoy it.
So in the spirit of cherry season (which also happens to be fun drink season), I made batches of four different cocktail cherries: two made with dark, sweet cherries and the other two with sour cherries I picked at Greenbluff.
Here are links (and some commentary) for the four varieties currently sitting in my pantry:
Brandied Cherries from Imbibe:
This recipe smelled absolutely delectable as it was cooking. The cherry juice thickened slightly and turned a beautiful dark red. I tried one of the cherries that didn't fit into the jars before processing, and this recipe is a front-runner—the brandy is just right—not too strong, but adds depth to the flavor. The juice will make delicious Shirley Temples, too.
Put 'em Up's Drunken Cherries.
Put 'em Up is one of my favorite preserving cookbooks. The Drunken cherry recipe has very few ingredients (cherries, bourbon, brown sugar and water), and does not call for processing. The alcohol content is high enough to make them shelf stable for up to a year.
Maraschino Cherries from Cupcake Project:
This batch is the closest to store-bought maraschino cherries and uses maraschino liqueur, which the original maraschino cherries were preserved in prior to prohibition. I used Luxardo brand liqueur (it is what I could find in Spokane) and they're pretty good. I added a couple of cherries and some juice to a Fresca and the result was tasty and also made a beautiful drink.

Sour Boozy Cocktail Cherries from Hounds in the Kitchen:
Again, this recipe smelled amazing as the cherries were cooking. Vanilla and allspice mixed with cherry juice is warm and delicious. Some of the alcohol does cook out while processing the jars, leaving the flavor of the bourbon without as much of the punch.


---
---